History of Halloween
Hang on for a minute...we're trying to find some more stories you might like.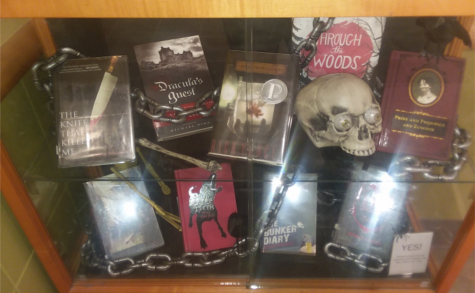 As the leaves start changing and the apples start ripening fall comes in as summer fades out. Halloween is right around the corner. Did you ever stop and think how it came to be?
Halloween originated in the eighth century with the ancient Celtic festival of Samhain. During this time, people would light bonfires and dress in costumes to ward off otherworldly spirits according to history.com. This day marked the end of their summer, as the harvest was coming to a close, and the dark cold winter was just to come. This time of the year was often heavily associated with human death and the return of their ghostly presence.
On May 13, 609, A.D. Pope Boniface IV dedicated the Pantheon in Rome to honor of all Christian Martyrs, and in result, the Catholic feast of Al Martyrs Days was created. According to history.com, Pope Gregory III then moved the celebration from May to November and designated it as a time to honor all saints as well as all martyrs. Much like the early festivities of Samhain, the Christians did much the same, as they had parades, dressed up in costumes, and light bonfires. Down the line, All Saints Day would be carried through generations, and bring us to modern day Halloween.
Through out the United States, Halloween was very uncommon but more present in the Southern States during the colonial period. This was because of conflicting and rigid protestant beliefs. Later on, it started to become more common as many immigrants started to flee from their country's, and carry on their diverse traditions here. With an increasing number of people sharing stories of the dead, and performing skits overtime it would become a beloved national holiday.
The classic Halloween tradition of trick or treating started after World War II. It was a way to bring the community together and share the holiday celebrations. Each year, Halloween has been increasing with popularity. More than one quarter of all candy in the US is bought annually for Halloween. Following Christmas it's the second largest commercial holiday. In the late 1800s, there was a movement  in America made to mold Halloween into a holiday. It displayed the holiday as being more about community and neighborly get-togethers rather than about ghosts, pranks and witchcraft. Halloween parties for both children and adults became the most common way to celebrate the day.
Television and movies have helped to promote Halloween. Some traditions that we continue with today are going to haunted houses, carving pumpkins, bobbing for apples, dressing up for trick or treating , and watching really scary Halloween movies. Regardless of how you celebrate, the fun of Halloween for many involves spending quality time with friends and family during the fall season.