Interclass Festival Shines at Oakmont
Hang on for a minute...we're trying to find some more stories you might like.
Oakmont's Interclass Plays held on November 16th and 17th included numerous funny moments that kept the audience entertained all night long. The plays performed by each class  ranged in topic from appropriate audience behavior to awkward meetings through time, as well as shark attacks and a murder in a burger joint. A total of over 90 students participated in this year's Interclass Festival which was directed by Mr. Jeffrey Aubuchon  and judged by Mrs. Champa, Mr. Ethier, Mrs. LeBlanc, Mrs. Morin, and Mr.Dewhurst. Also, thank you to Mr. Asadoorian who created the equation for 'the shortest, funniest play with the BIGGEST cast."
Aubuchon appreciated the student involvement stating, "I love that Interclass is a festival and no longer a competition.  We celebrate all the great student performances that weekend, not just those we think are best." Thanks must be given to Aubuchon – the hard working advisor.
The Class of 2020 performed a one act play, titled Employees Must Wash Hands… Before Murder by Don Zolidis. Directed by Max Charbonneau and Shannon Meehan, the cast flaunted its humor with laugh out loud moments from James Maloney's "I quit" scenes, and intern Emma Roche's "demerit demerit" lines. From Simon Rodriquenz's blonde ponytail to Mady Aubin's vegetarianism, this play truly encompassed the spirit of a fast food restaurant. In addition to their overall incredible performance, the juniors stole the show with a dramatic plot twist when they lowered a communist flag above the stage and Olivia Smith, who played Tammy the Musical Tapeworm.
Not only did they get to take home the jelly bean filled trophy, the juniors got to spend time with their classmates while enjoying their time acting as well.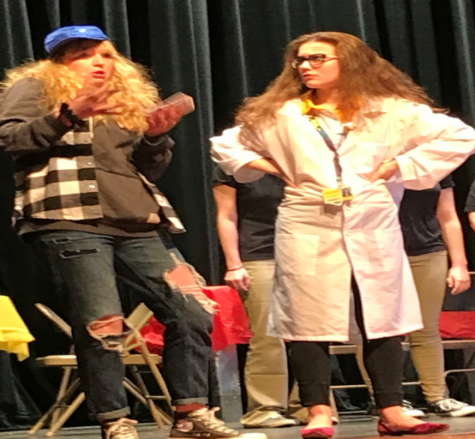 As store manager Alex Rittberg expressed, "Interclass is such an amazing thing to do. Even if you aren't a very outgoing person, or a theatre lover, you can get something out of it. You get to do something fun and silly every week and then go on to perform in front of a bunch of people. I can't describe how many friends I've made through Interclass and how thankful I am for that." The Junior Class will surely continue making memories that will last a lifetime, but the real question is, will they be able to win Best of Show again next year to claim a 3 year reigning championship?
The graduating Class of 2019 presented High School Reunion by Ian McWethy. The play directed by Nicole Snow and Nik Sullivan, told a story of five people throughout time – setting them at their prom as well as various high school reunions.  In the first act the audience met Jason (Cole Ellsworth) the Prom King, Carrie (Elise-Rose Farnham) the go-getter, Peter (Jared Sarasin) the party animal, Liz (Marina Doukellis) the pushover, and Brendan (Brooke Leger) the social outcast with a pet hamster named Hammy. The second scene took place at the character's 10th anniversary, each character had changed, and was played by a different actor. Brenden (Daniella LeBlanc) reveals his plan to start Zhu Zhu pets, and a disheveled Jason (Oliver Wessels) returns.
In the third scene Carrie (Maria Leger) arrives to the 25th high school reunion wearing an orange jumpsuit, after going to prison for medical malpractice. The final scene was the biggest hit of the play.  The actors' elaborate old people costumes, complete with baby powder wigs made the audience truly felt like they were at a 65th high school reunion. Brendan (Ryan Weston) makes his last attempt to "be at the top," and Jason (Brooke Leger) proves that all he really wants anymore is a nap.
As Cole Elsworth said, "Interclass brings all walks of life together and allows everyone to be someone else for a few hours every week."  This is truly shown in the senior class, the students involved are not just kids who perform in the musical, but are also members of sports teams and other activities. Overall, the play was fun to watch due to the exciting and dedicated cast of seniors.
The class of 2021 followed Adventure Dan, played by Phoebe Brooks, and Sweet Bonnie, played by Ari Deery, through 7 random ways to be eaten by sharks in Everyone Gets Eaten By Sharks by Marshall Pailet. Directed by sophomores Charlie Kovaleski and Carson Stiles, the play's wacky situations and exceptional acting added to the humor of all the performances throughout the night. Sophomore Tucker Rogers, who stole the show with his hilarious comments, compared interclass to the spring musical, commenting that interclass creates a relaxed and casual atmosphere.
Max Zbikowski, who played Daddums and Father, said, "I really enjoyed doing it as you feel as though you are in more than just a group of cast members but in almost a family of your fellow cast members! As you go through the many weeks of interclass you come to bond with them and you grow comfortable with this group, which makes doing the play easier to perform!" Credit also to Will Babincsak for his great versatility in roles ranging from a mad scientist to a lone shark.
The freshmen class of 2022 held a humorous performance called Appropriate Audience Behavior written by Ian McWethy, and directed by Oakmont students Creighton DeMoura and Michaela Wooding. The play that kicked off the night taught the audience proper play etiquette. The cast presented all the things the audience could do to disrupt a play in progress: from the chatty people sitting behind you, to the uncontrollable snackers. Anything can happen when the lights are turned down. Not to mention, Samantha Hill got the most laughs from the audience all night, when she popped open her soda can and decided to drink it completely oblivious to her inappropriate audience behavior.  Just remember not to have a monologue or you just might happen to make Hamlet, played by Claire Wittmire, come down and give their own. Hannah Silverman, who played Ashely, appreciated the entire experience saying, "Interclass is amazing because I get to hang out with my friends, and have fun and I absolutely love performing."
All in all, Interclass was once again made Oakmont proud – and many caught the stagelight fever that will certainly fill the stage again for Evita'.
Award Winners
Best of Show
Romeo & Juliet Awards
Amanda Porter '19
Max Charbonneau '20
Broadway Bound
Mary Mahoney '20
Emma Roche '20
Best of Class
Freshmen
Ryan Maloney   Hannah Silverman
Sophomores
Phoebe Brooks  Tucker Rogers
Juniors
Mady Aubuchon     Simon Rodriquenz
Alexandra Rittenburg     Olivia Smith
Seniors
Brooke Leger       Cameron Rocheford              Oliver Wessels       Ryan Weston
About the Writer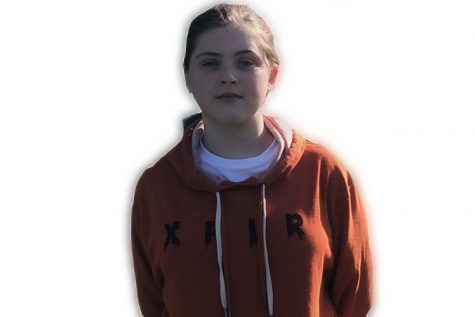 Thera Walsh, Author