Unified Basketball: A Win for Oakmont
Hang on for a minute...we're trying to find some more stories you might like.
Each year, students look forward to a handful of events: Homecoming, Spirit Week, Turkey Bingo, Powderpuff, Junior/Senior Relays, and Prom to name a few. After the success of Oakmont's newest addition to the athletic department – unified basketball – it'll surely be added on to the list.
Oakmont has kept its sights set on establishing a unified basketball program for the past couple of years. After closely observing the impact of the program at surrounding schools and discussing the possibilities with parents, potential student athletes and partners, athletic director Eric Dawley decided to jump on board.
The athletic program is approaching its seventh year offering unified track and field, which was an instant success in providing opportunity for a group of students who typically wouldn't otherwise participate in athletics and represent their school. Following the success of unified track and field, Dawley explained, "It was only natural for us to pursue unified basketball and be able to offer another unified sport in a different season."
Quick on action, the program was ready to start up this past fall with principal David Uminski, and special education teacher Brittany Smeltkop 100% behind it. Paraprofessional Robert Jackson, took the lead as head coach, and got to work right away after the team building process was complete.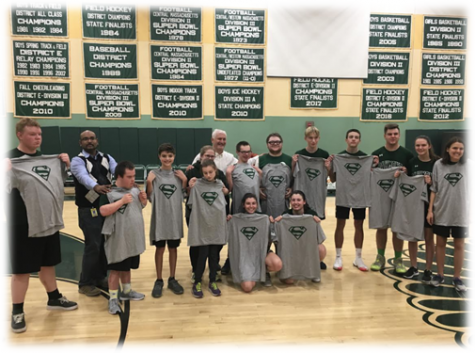 Jackson's approach on coaching this season was simple: fun and fundamentals. Of course, he mentioned knowing your audience and why you're there, but the teamwork just really fell into place as the season progressed. Jackson credits Oakmont varsity basketball partners not only for assisting with positioning and general skills, but for facilitating numerous plays and constantly passing the ball to let other unified players shoot. As he expressed, the athletes didn't really need much coaching; we did very well score wise but knew that wasn't most important.
Heading into the season, almost everyone agreed the goal was to simply get the program up and running and get in a couple of games while having fun. However, no one expected the overwhelming support and positivity they'd receive from the entire community. As Dawley stated, "Every expectation that I had, and we had as and athletic department was surpassed by a mile." The turn out of students, faculty, administration, parents, and community members that came to fill the stands and support the team each of the three home games was remarkable. Uminski added, "It has been one of the most positive experiences for the entire school… in my 30 years here at Oakmont."
Not only was the support from fans incredible to see, it also left a lasting impact on players, coaches, and
the school community alike. As Smeltekop described, "It brought about the feeling of community and
support and really everything that unified is supposed to be about." Head coach Jackson recalled, "The amount of 'congratulations', looks we got, high fives, hand shakes, and emails was way more than I could have expected." It was unbelievable to see the huge impact we left on the entire school and others in our community. Most can agree, the cheers for both teams, reactions of the players, and fan section atmosphere truly gave the world a perspective on what's important.
The unified basketball team itself played a key role in creating a positive atmosphere and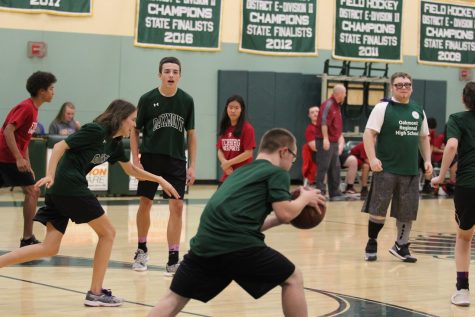 encouraging fans to attend. As Jackson conveyed, all the kids' hearts were in the right places; student Connor Elliott continued, explaining his experience as an athlete on the unified basketball team allowed him to, "influence others to respect the other kids with disabilities more." Furthermore, Smeltekop and Jackson agreed this season cemented why they do everything they do, "We've done unified track and field in the past and that was good, but this was great."
All the unified basketball games were extremely memorable, but looking back on the season, a few highlights truly exemplify the meaning of unified sports. Smeltekop remembered, my favorite moment had to have been when Elliot was dribbling the ball, and one of the young ladies on Littleton's team had fallen down. Without thinking, he grabbed the basketball in his arm and bent over to pick her up. Others recall the moment when Richard Prunier hit four three pointers in a row and the crowd went crazy. Prunier commented, after that moment, "I could guarantee you it was going to be an undefeated season." Yet another of the team's achievements. But most impressive, Oakmonts' Unified Basketball Team was one of six teams in Massachusetts awarded with the MIAA Sportsmanship Award. The award recognized their stellar sportsmanship on the court all season long. Above all, Oakmont coaches their athletes to exemplify good sportsmanship and be a teammate, regardless of the sport, season, or level of play. Uminski even stressed the importance of sportsmanship suggesting, "[He'd] rather have that than district championships." This award was meaningful to the entire school – or at least those who came out to support the team. Dawley commented, "It's pretty special… really a reflection on our team, coaches, entire school, and athletic program." The unified basketball team even got to show off the award at the Thanksgiving Pep Rally. Not to mention, all of the athletes won Spartan of the Month for their inclusiveness and positive energy that led to an inspirational, uplifting season.
Looking towards future, Smeltekop aims to continue the team's successful season while teaching the athletes what unified sports are all about. In upcoming years, she plans to, "Keep the team small…under 15 and make sure all the kids get as much time on the court as they possibly can." Logistics aside, Head Coach Jackson explained in the future he, "[doesn't] think [he] would even change anything; everything went even better than we could have expected." Elliot agreed, from a student athlete's perspective, "It was really good season; everyone had fun and we all got along." The only one with the slightest regret was Prunier, not from a moral standpoint, but from a performance aspect. Regardless of the sport, all Oakmont athletes seem to have one thing in common: a competitive drive inside them. Pruiner felt his competitive side as he elaborated on the success of the season, and conveyed that if he could re-do it he'd, "try and practice on [his] own time." In total, after their first season in the books, players and coaches alike have little regret and can't wait to get started again next year.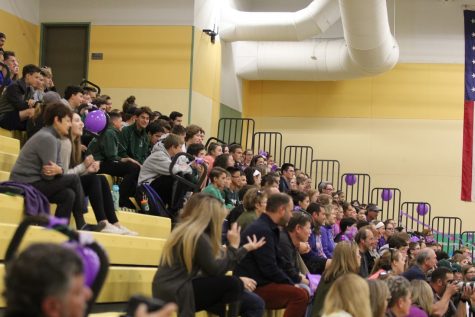 Kate Romano
All this success wouldn't have been possible without support from students, faculty, adminstritation, community members and so many more. Smeltekop thanks everyone for the encouragement from the entire school community and would love for the support to continue in future years. Furthermore, Uminski appreciates Mr. Dawley, the work that he did, Mr. Fitzgerald, Mr. Jackson and the other coaches, but also Mr. Demoura for bringing a pep band to one of the games, the football coaches for interrupting their practice, the girls' soccer and field hockey teams for cutting their practices short while they were getting ready for districts, and everyone involved in each of the three home games this season.
Oakmont's Unified Basketball Team had an inspiring program debut, and without a doubt has a promising future in store for them after their eye-opening season this past fall.