Marching Down Main Street USA
Hang on for a minute...we're trying to find some more stories you might like.
Every three years the Oakmont Overlook Marching Spartans have applied and been accepted to perform at Disney World, courtesy of Disney's Performing Arts program, which also allows the opportunity to sign up for a musical and a dance workshop. The band takes almost a week out of their comfy Massachusetts living to fly down to Florida and play in a select number of parades, entertaining band parents and visiting families at Disney who gleefully take videos and pictures while they march past.
As they were told before they went out for their first parade, the inclusion of marching bands in the Disney parades is a tradition begun by Walt Disney himself. At their first parade, there were two other bands they shared the spotlight with, but the second time the Marching Spartans were all by themselves, going down Main Street USA in the striking sunlight.
As the website for Disney Performing Arts points out, performers get the taste of showbiz, "Disney style." The Spartans were referred to as honorary cast members throughout their warm-up time and the short time spent afterwards still backstage. The performance aspect is not limited to just marching bands, there are a lot of other styles to sign up for, such as dance or singing groups. However, there's nothing like a parade.
The day of the first performance, Disney World's Magic Kingdom ended up reaching a full capacity, strollers parked just about everywhere and an absolute swarm of people densely packed in front of the castle by the time the fireworks show began. Families lined the streets, watching as the Spartans played a song specifically written for the occasion.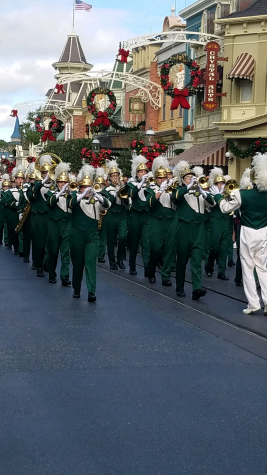 Lots of preparing went in before they were even allowed to step foot in uniform. Mr. Bergeron, a staff member for the marching band, wrote Spartans, Forever and Onward which played around with tunes from Disney, the 2018 marching show, and select pieces like Africa by Toto. The culmination of this work peaked on the Disney streets, putting smiles on hundreds of people's faces.
The workshop was another aspect of the trip where the band was taken onto a stage and given the experience of what it's like to record in a studio, enveloped in the world of trying to be perfect while playing the pieces for the first time. Their sight reading was praised and with every piece the music got more and more difficult. At the very end, they recorded a track arranged from scenes from Frozen. This was then set over an animation which was given to Mr. DeMoura who unfortunately can't post it anywhere cause . . .  well . . . you know Disney.Many of the band members' favorite part about the parade experience was performing for these people, and especially knowing that they were from all around the world. It was nothing like their small town annual Memorial Day parades – nothing like it at all. Ciara Lordan, an eighth grade clarinet player, liked being backstage and said, "…it was hard to believe we were a high school marching band on a field trip."
One of the most memorable aspects of the workshop is the fact that you work with a professional from Disney—someone who has worked for Disney and tells you all sorts of small stories about what he's done in the parks. Shannon Meehan, a bassoon player, like the professional they worked with, said she enjoyed the experience and that she liked being able to talk to him and that it gave her, "…a better idea of what it is like to be a working musician."
Among the songs they got to read, a majority of people asked enjoyed the song Evermore the most, a song from the live action Beauty and the Beast and also the conductor's favorite piece as well. When they were about to play it he jokingly mentioned, "This is my favorite piece that we have, don't mess it up." Thankfully, he loved the way they played it.
The color guard, since many of them don't play an instrument of any kind, participated in a jazz dance workshop. According to Ella Kreidler, a sophomore in guard, they learned difficult jazz techniques that weren't anything like they were used to. To tie it all together, they learned a dance routine to the loveable song Friend Like Me from Aladdin which Kreidler says was so much fun to learn and perform.
The Disney experience is something to remember. Although it most often is experienced with relatives hugging you at either side, for marching bands all across the country, they get to do it with their closest friends on top of performing for the world. There's nothing quite like racing with your friends to Space Mountain the moment you enter the Magic Kingdom, or waiting in one line for hours, playing stupid games with each other. Disney World is best done with your family, and what better family is there than the band you've practiced with for hours on end.
About the Writer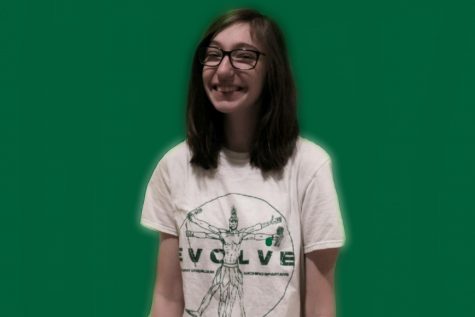 Emily Paul, Author