Oakmont JV Winter Sports
Hang on for a minute...we're trying to find some more stories you might like.
Girls' Basketball
Coach: Peter Romano
The JV Girls' Basketball team has shown great progress and performance even this early in the season. According to Coach Romano, the Lady Spartans have been making significant improvements in understanding and running all the inbounds plays, offenses, defenses, and presses. Romano also spoke on the strengths of team, pointing out their "quickness and willingness to work together." The team and coach look forward to their upcoming games against Quabbin Regional High school, saying that "[Quabbin] always plays us really tough and makes us work hard." The coach specifically pointed out that his team is a "great group of girls and talented basketball players. All of the girls work hard and work together. They have played unselfish basketball and are outscoring opponents by an average of almost 20 points per game." As the Spartans continue their season, keep an eye on sophomores Emma Cullen and Kenna Rodriquenz who have shown great leadership skills and work hard near the basket. Also, freshman Rylee Barrieault, Lindsey LeBlanc and Katie Dolan who have provided excellent ball handling skills and aggressive defense to advance the teams over all skills. Make sure to show your support at the games!

Boys' JV1 Basketball
Coach: R. Lincoln Stiles Jr.
Oakmont's boys' JV1 basketball team – coached by Lincoln Stiles – has had a great season so far this year, with 16 freshmen and sophomores as well, the Spartans fight for victory each time they approach a game. Coach Stiles remarks the strengths of the team, commenting that the team "has a very good [relationship] with each other and they work very hard to try to improve their basketball skills." Additionally, the team has shown great improvement defensively, as well as overall improvement in their focused effort. The Spartans, along with Coach Stiles, look forward to  a "rematch" with the Quabbin team that beat the team in double overtime earlier in the season. Be sure to attend the team's games to show your support for the Spartans!

Boys' JV2 Basketball
Coach: Demetrios Tyros
Captains: Dylan Banda and William Wirtanen
The Boys' JV2 basketball team – lead by Mr. Demetrios Tyros – has done an outstanding job so far this season. Coach Tyros spoke on the overall strengths of the Spartans, pointing out, "They are a great team, they are really good at working together. Even when it's tough, they rally together and they're all pushing each other." Tyros explained that the teams energy is unmatchable, that the boys have a bright spirit and a great team culture. In general, the team does an exceptional job recognizing their mistakes and working to improve their game. The Spartans had their first loss recently, nonetheless the team came into practice the next morning, "already knowing what they had to work on and adjust….before [ Coach Tyros]  even gave [the team] any statistics they were recognizing their weaknesses and working on how to improve them." This season Tyros looks forward to every game and every practice; he works to challenge the boys and push them to be the best and play the best that they can. As the season progresses, keep an eye on Ryan McKenna, Austin Grimley and David Luberto who work aggressively on the court. Remember to attend the games!

Boys' JV Ice Hockey
Coach: John Thibault
Assistant Coach:  Aaron Testa and Mike Duteau
The JV ice hockey team has had a great start to their season, lead by John Thibault, they attack each game craving to win and improve skills. Varsity head Coach Duteau explained that he approaches each team with the "same excitement and eagerness to get better everyday," and additionally runs the same systems with both teams so that each player understands the plays. The coaches preach about consistency and teamwork, striving to make every individual the best they can be, to in turn advance the team. Each player works hard and improves their skills in hopes to play at the varsity level next season. According to Duteau, "Perfection is unattainable but we must all still strive to get there. [The coaches] tell the boys that making mistakes is a part of the growing process, but it's how we deal with the coaching and the corrections that will most benefit [the Spartans'] individual games." Best of luck to the team as they continue their season, and remember to attend games to show your support!
About the Writer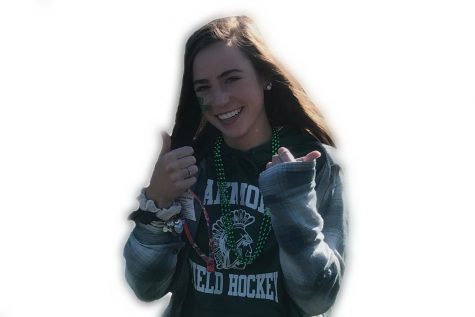 Peyton Collins, Author