Oakmont Winter Varsity Sports
Hang on for a minute...we're trying to find some more stories you might like.
Girls' Basketball
Coach: Jeff O'Neill
Assistant Coach: Gary Koslowski, Pete Romano
Captains: Hannah Cravedi, Rachael Sinclair, Kylie Lison, Leah Pelkey, Hannah Farineau
Oakmont's girls' basketball has had a great start to the season, considering they are currently undefeated. Led by strong and experienced young ladies, this team strives to keep moving forward and improving as the season progresses. The Lady Spartans' starters have been playing varsity for 3-4 years, and this well-versed team also has players coming off the bench with 1-2 years of varsity in their back pocket as well. When the girls aren't on the court during a game, they are working hard in practice. "It's all about the little things!" -something any girl playing Oakmont basketball will hear from head Coach O'Neill. The girls are running hard in practice everyday to gear up for the district tournament, which they hope to place further than district semi-finals, which was how far the team made it last year. As for individual stand outs, Kylie Lison is inches away from scoring over 1,000 points, something only a handful of Oakmont's student-athletes have achieved. Kylie also has over 500 rebounds and over 200 steals. Kylie will be the first to tell you how grateful she is for her teammates. When teams try cornering the veteran player, other players step up. Leah Pelkey, Rachael Sinclair, and Hannah Cravedi are all four year varsity players that show leadership in different areas of different games. Assistant Coach Gary Koslowski adds to the conversation, "What we have is very special and each player on the team, and in the program, play a very important role in our past and future successes" Make sure to catch one of the undefeated Lady Spartans' games!
Boys' Basketball
Coach: Eric Dawley
Assistant Coaches: Brian Billings, Lincoln Stiles, Demetrios Tyros
Captains: Evan Pappas, Luke Sugar, Dan Dumas, Colton Bosselait
The boy's team this season has some exceptional athletes that are contributing as much as they can to every game. When at their highest point, the boy's team defense has been very strong, and the chemistry amongst the players is improving every day on and off the court. "I think we have improved in all areas of the game", says head coach Eric Dawley. The team's ability to score has improved as they learn to play more as a team by balancing the offense. The team defense is worked on everyday at practice, and the team strives to always get better in all areas of the game. "I look forward to practice everyday," Dawley says. He also looks forward to getting the best out of each and every player so the team as a whole can get better. The boys embrace the competition and are currently working one day at a time.
Boys' Ice Hockey
Coach: Mike Duteau
Assistant Coaches: John Thibault and Aaron Testa
Captains: Casey Cormier and Ryan Peralta
The boys ice hockey team this season is focusing on keeping good attitudes and working hard. As the team is still learning a new defensive zone system, they're maintaining an upbeat demeanor and are staying persistent. The team's most important aspects of the game is their defensive zone coverage and their special teams play. As the season has progressed they have already shown progress in both. Head Coach Mike Duteau comments "I believe the pieces are starting to fit together and I see an upswing coming our way."
Girls' Ice Hockey
Coach: Joelle Vautour
Assistant Coaches: Brenda Cormier, Amy Miller
Captains: Heather McHatton, Abby Ovaska
The girls team is young and full of tremendous potential moving forward. The team is co-op with Fitchburg High School, Narragansett High School and Monty Tech. The girls work hard in practice and games as well, and they are maintaining positive attitudes. Many of the girls are new to the sport this season and already have improved greatly since the beginning of the season. The girls that aren't so new to the sport have taken a huge role to influence their teammates with their skills and leadership on and off the ice. The team is most looking forward to improving and their games against Shawsheen, Leominster and Bishop Fenwick.
Indoor Track
Coach: Dan Dufour
Assistant Coach: Tim Douglas
Captains: Boys- Keegan Mcmahan , Bryce Berry, Jared Sarasin, Michael Hines
Girls- Jessica Ciesluk, Alyssa Madden, Rachel Law, Delaney Collins
Oakmont's indoor track team has had a great start to their season, although the team is small in numbers, they continue to approach practice every day craving to improve and advance their skills. The team is composed of dedicated individuals who are consistently reaching personal records. Coach Dufour discussed the strengths of the team, explaining that the team has an incredible ability to work well together, have fun, and still achieve their goals. Though overall improvement is hard to measure for a track team, each individual is working hard to consistently hit personal records, as the runners continue to grow and get better. This season Coach Dufour looks forward to qualifying as many people as possible for states. With a small team, it will be a bigger challenge than in years past, but the team has hopes to achieve on the larger scale. As the season continues, keep an eye on Jared Sarasin, Michael Hines, Sean Kelly, Alyssa Madden, Jessica Ciesluk and Delaney Collins. Remember to stop by Coach Dufours room if your interested in joining, indoor track is a great program that can be used for conditioning for spring sports or as a sport itself. The team is always looking for new members and is happy to welcome new runners!
Swimming
Coach: Jess Francis
The swim team is made up of swimmers from Oakmont, Gardner, Narragansett, and Murdoch high schools. The individuals from Oakmont are Kiley Young, Sage Valiton, Emma Dunn, Ariana Deery, Danielle Klash, Teagan Dymek, Courtney Raymond, and Keira Mooney. The team's girls 200 Freestyle relay has qualified for states as well as individual qualifications from Kiley Young in the 200 individually medley and the 100 backstroke. The team has their League Championship meet on January 31st and their Senior night is on January 25th, so come out and support!
Wrestling
Coach: Keiron Smith
Assistant Coach: Rudy Paulino
The wrestling team is out of Monty Tech and is co-op with Oakmont and Fitchburg High School. The team is looking forward to having some of their players place in sectionals, and they have had some good placements in tournaments. The team has grown as a whole and each individual has gotten more experience as the season has progressed.
About the Writer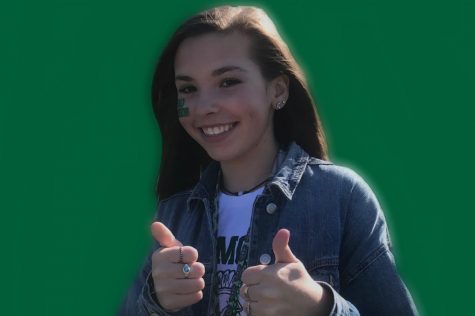 Allyson Foley, Author
Freshman. I play field hockey and lacrosse.