Congresswoman Trahan Visits Oakmont
Hang on for a minute...we're trying to find some more stories you might like.
February 25th, a normal Monday morning, Congresswoman Lori Trahan made a stop at Oakmont made possible by Political Discussion Club. For most students it seemed like a way to ease back into school after a long vacation, but she actually had a lot to say to our students.
As a member of congress she has a unique role in our government. Trahan explains that she doesn't spend everyday in the White House with the President. She hadn't even seen him until the State of the Union earlier this month. Being a representative for Massachusetts she deals with matters closer to home.
Her plan is to focus on infrastructure pertaining to our bridges, roads, public transportation and more. This would also deal with disasters such as the gas pipeline incident in Lawrence this past fall. "Those issues afflict everyone, so It doesn't matter if you're a democrat or a republican, one of the keys to unlocking economical development and making our cities and towns thrive is infrastructure projects."
She also explains she also wishes to re-engineer our education system so that young people can build the skills they need to get a good paying job which is the key to economic opportunity.
You might be wondering what does this women have to say that could directly affect me; however as she pointed out many of the problems congress and the house are talking about will mostly affect our generation for our future lives.  
Although not all agree with her, she is the ideal politician. She believes that Democrats and Republicans should be able work together especially with the shutdown to make sure it never happens again. Trahan understands that not everyone she is representing is a democrat. She is prepared to make your voice heard no matter what political party you associate with. "It's not enough to be angry, you have to be willing to work with everyone."
This why she won her election, because she regularly goes around and talks with people she not only shares similar views with, but those she doesn't. This helps to find common ground with all who she represents.
Trahan also spoke to an upcoming college students biggest fear: student loans. According to her, college tuition tends to be high because of school maintenance. They have better facilities, dorms and overall appearance which raises the cost. "I would like to see a shift in those resources for (job) preparedness so that when you graduate you actually can get into a good paying job, paying off that debt." In her opinion the federal government could be doing more to help lower student loans. She would like to see government invite industry to the table to accomplish this. Not only that, but she would like to see colleges be held accountable for the amount of tuition they are charging the young people.  
Students had the opportunity to see who their voice is in the White House and how they are being represented. Hopefully it made students realize that voting for representatives really does have an effect on them and their future.
About the Writer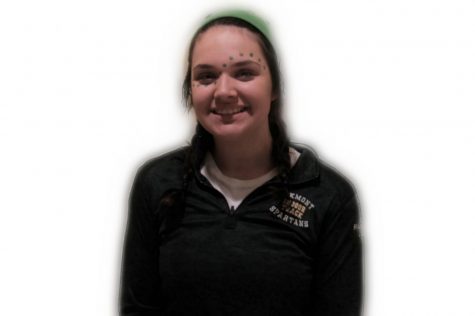 Rachael Law, Editor/Online Administrator
Senior at Oakmont, Second year of Journalism, Editor and columnist