Undergraduate Awards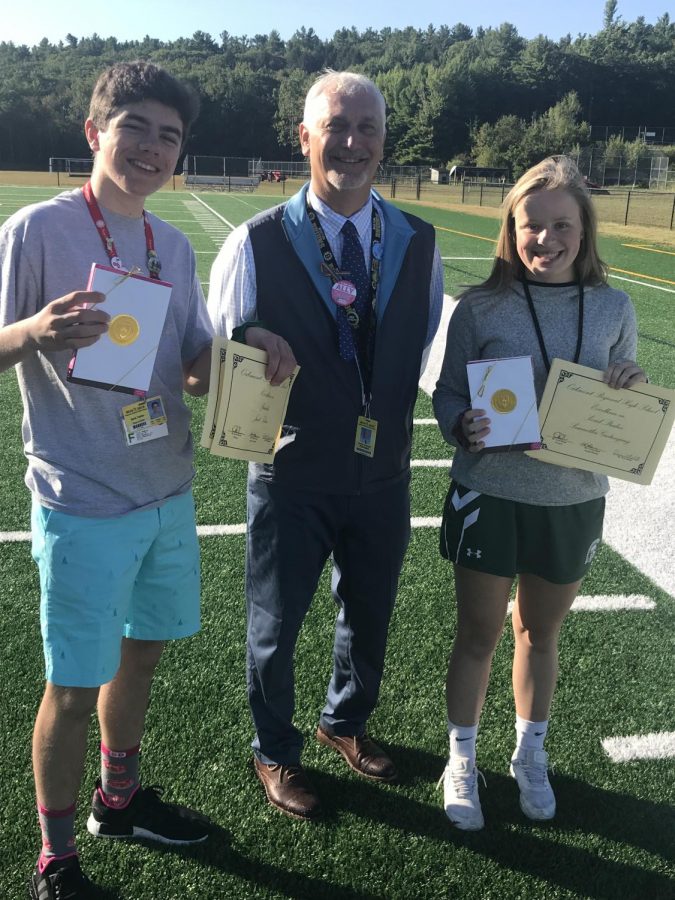 OAKMONT REGIONAL HIGH SCHOOL
UNDERGRADUATE AWARDS
SPARTAN SCHOLARS 2018-2019
(GPA OF 3.7 AND ABOVE – CERTIFICATES )
Class of 2022
Kennedy Alexis
Isabella Allen
Jessica Boyack
Cameron Breton
Peyton Collins
Creighton DeMoura
Emma Dunn
Connor Elliott
Allyson Foley
Nicholas Goodchild
Emma Harris
Samantha Hill
Nicole Hillman
Makayla Hyde
Keira Mooney
Drake Nelson
Skyla Nolan
Sophia O'Brien
Isaiah Paris
Fiona Picone
Mollie Quill
Courtney Raymond
Jonathan Rossignol
Allison Sowerbutts
Quinn Sugar
Thomas Therriault
June Whittall
Claire Wittmier
Class of 2021
Laurel Allen
Marcus Antonelli
Lucinda Barrett
Olivia Batten
Maddison Behringer
Colton Bosselait
Julia Boutwell
Julia Brazeil
Eleanor Briggs
Shannon Broderick
Theresa Brouillet
Sara Buszkiewicz
Emma Cullen
Sophia Dellasanta
Raeanna Deloge
Felicia Deloge
Jenna Dubrule 
Van Gallien
Tyler Gauthier
Emmy Graham
Emelia Haley
Julia Hammond
Kaela Hillman
Cathryn Hynes
Madelyn Ide 
Sophia Koskinen
Ella LaFortune
Cailey LeBlanc
Megan Leger
Michaela O'Brien
Laura Oliveira
Jared Podrazik
Kelly Provencial
Allie Raymond
McKenna Rodriquenz
Cooper Rogers
Lindsay Romano
Quin Shattuck
Irini Stefanakos
Carson Stiles
Mackenzie Sullivan
Miles Sullivan
Nicolas Valentino
Sage Valiton
Emily Volmar
Max Zbikowski
Class of 2020
Lisa Angelopoulos
Alana Barrett
Daniel Bartkus
Olivia Bedard
Bryce Berry
Sarah Bubnowicz
Hayley Byers
Max Charbonneau
Liam Cole
Brianna Conlon
Lauren Connolly
Nicolette D'Amico
Alyssa Dalbon
Chloe Davis
Giannamarie Delisle
Lexis Emma
Jason Fan
Brett Fells
Mia Francioso
Samantha Gastonguay
Daniel Gorham
Riley Grimley
Michael Heins
Cade Hogan
Zoe Laskarides
Sophia LeBlanc
Cassidie Lison
Timothy Marsh
Laura McBride
Shannon Meehan
Kyle Moran
Eleanor Paine
Riya Patel
Emily Paul 
Alexandra Rittberg
Emma Roche
Abigail Rusak
Kaitlyn Shea
Olivia Smith
Brady Smith
Emma Tabor
Sadie Testa
Jack Tobia
Anna Velardi
Olivia Wells
Benjamin Wiita
Gerald Wish
Adam Wong
Lilia Wooding
Grace Wyson
Kiley Young                                     ACADEMIC AWARDS (CERTS)
ART 2020
Sophia O'Brien
Michaela Wooding
Fiona Picone
2021 Olivia Batten
Shannon Broderick
Madison Snyder
2020 Laura Bowler
Giannamarie DeLisle
Kaitlyn Shea
BUSINESS 2020
Olivia Wells 
Zachary Savard
Ryan Coleman
2021 Jenna Dubrule
Elayna Ferrick
Madison Snyder
Allie Raymond
ENGLISH & LANGUAGE ARTS 2020
 Eric Amblo
Fiona Picone
Emma Harris
2021 Sage Valiton
Nicolas Valentino
2020 Amber Nowlan
Samantha Gastonguay
Brett Fells
Journalism – Allison Foley 
Creative Writing – Jillian Smith 
MATHEMATICS
2022 Fiona Picone
Nicholas Goodchild
Johnathan Rossignol
Allie Raymond
Colton Bossolait
Madison Wilga
2020 Nicolette D'Amico
Brett Fells
Olivia Bedard
HEALTH AND FITNESS 2020
 Kennedy Alexis
Zachary Dube
2021 Phoebe Brooks
David Seppelin
2020 Kiley Young
Daniel  Dumas
TECHNOLOGY/ENGINEERING 2020
 Isabella Allen
Nicholas Goodchild
Quinn Sugar
2021 Ella LaFortune
Megan Leger
Aidan Tamulen
 Bryce Berry  
Lexis Emma
Timothy Marsh
FOREIGN LANGUAGE
SPANISH 2020 Kennedy Alexis
Emma Dunn
Keira Mooney
2021 Sage Valiton
Lindsay Romano
Kelly Provencial
2020 Samantha Gastonguay 
Jack Tobia
Cassidie Lison  
FRENCH
2022 Eleanor Briggs
Corrado Cruz
Madison Snyder
2021 Ashley Snow
McKenna Rodriquenz
Megan Leger
2020 Lisa Angelopoulos
Lexis Emma
Grace Wyson
SCIENCE
2022 Fiona Picone – Biology
Drake Nelson – Biology
Gerald Wish – Biology
2021 Rachel Courtenay – Chemistry
Max Zbikowski – Chemistry and Geology/Oceanography
Jenna Dubrule – Chemistry and Field Botany
2020 Brett Fells – Physics
Kaitlyn Shea – Anatomy and Physiology
Alexandra Rittberg – Forensics
CHORAL INSTUMENTAL 
2022 Creigton DeMoura
Thaddeus Derby
Claire Wittmier
2021 Elayna Ferrick
Ella Kreidler
Charles Kovaleski
2020 Jonathan Pack
Simon Rodriquenz
Olivia Smith
SOCIAL STUDIES
2022 Fiona Picone
Creighton DeMoura
Isaiah Paris
2021 Julia Hammond
Laura Oliviera
Gianna Moreshead
2020 Samantha Gastonguay
Abigail Rusak
Cassidie Lison
Oasis Program
Classroom Discussions    Gage Baronowski
Persistence Zachary Neuhaus
Forensics Aurora Proulx
Forensics Topic Engagement Taylor MacCartney   
BOOK AWARDS
DARTMOUTH BOOK AWARD – Lilia Wooding
Is given to recognize and reward a high school junior who has excelled both academically and in their extracurricular activities; and to encourage these talented students to consider attending Dartmouth.
SMITH BOOK AWARD – Nicolette D'Amico
 Is given to a young woman who embodies the qualities of academic achievement, leadership, and service.
RENSALLAER MEDAL – Lexis Emma
Recognizes the superlative academic achievement of a student and is given to motivate students toward careers in the STEM disciplines.
SAINT MICHAEL'S BOOK AWARDS – Samantha Gastonguay & Jack Tobia
Is given to students who exemplify both academic achievement and social conscience.