Sports during a pandemic
Oakmont is usually bustling with school spirit because of the upcoming sports seasons, but this year is just going to be a little bit different. 
Since the beginning of the pandemic, getting things back to normal have been very difficult especially with the online school situation and school sports. For months, administration at Oakmont have been working tirelessly to try and figure out the best possible way to get everybody back to what they love to do. Whether that thing is coaching the sports teams or being a player out on the field.
According to the MIAA, ¨The Fall Season will run from Sept. 18 to Nov. 20 and will include soccer, cross country, field hockey, fall swimming/diving, and boys´ golf.The Winter Season will run from Nov. 30 to Feb. 21 and will include basketball, hockey, wrestling, indoor track and field, winter cheer, and winter swimming/diving. Fall II will run from Feb. 22 to April 25 and will include football, fall cheer and unified basketball.Then the Spring Season will run from April 26 to July 3 and will include baseball, softball, lacrosse, tennis, outdoor track and field, and girls´ golf." compared to other years those dates are a bit different from the originals.
Although this year is going to be a lot different "the situation currently is far better than the alternative…which would be no sports at all," according to Oakmont athletic director, Eric Dawley. Many students that I have talked to that are participating in some sort of sport this year definitely agree that it's better than no sports at all. The biggest question asked however is what is the mask situation going to look like for the players. "All players, coaches and spectators are required to wear a mask during competition.  Athletes will have opportunities during their respective contests to take mask breaks." according to Dawley. Masks are not ideal I get it, they are hard to breath in and they're hot, but if you really think about it, would you rather be sick or just have to wear a mask for a couple of hours. 
Many have wondered what the fans section would look like. The good news is that there will be spectators allowed. According to the Midland Wachusett League "Spectators must wear facial coverings and maintain six feet of social distance at all times." 
I know personally, that is much better than not being able to go at all, because as an Oakmont student, Friday night football games are a blast. So, being able to get at least that back is a plus in my opinion. Many of my peers also have the same outlook that I do.
Sophomore Taylor Wagner states, "During my freshman year when I went to football games I had a lot of fun and I think that they are a  good activity for the school and showing school spirit. I'm just glad we didn't lose that."
I know what everybody is now asking "Is there going to be indoor sports later into the winter?". The answer to that is "We simply do not know.The MIAA Board of Directors are scheduled to meet on October 29th to discuss the winter. We hope to receive some information and guidance, following that meeting," says Dawley.
Hopefully things go back to normal soon, but for now we are just going to have to adapt a little bit.
About the Contributor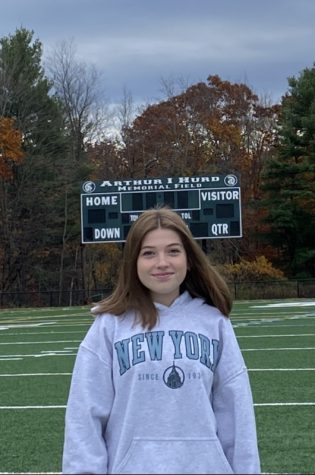 Alexis Clark, Journalist
Alexis Clark is currently a junior at Oakmont Regional High School, in her first year of Journalism. The junior wanted to try something new and expand...