The Alarming Violence Against Asian Americans
Government commissions and Asian communities are in agreement that Asian Americans frequently are the victims of hate crimes.  According to NBC, Anti-Asian hate incidents increased dramatically in the wake of the election of Donald J. Trump. 
Across the country, there were more than 2,500 reports of anti-Asian hate incidents related to COVID-19 between March and September 2020. A vast majority of San Francisco State University's Asian American's study department reported incidents where they were spat on, verbally abused, coughed on, and physically assaulted. The NYPD reported that hate crimes motivated by anti-Asian sentiments jumped 1,900% in New York City in 2020.
These studies and facts shown were just a few of the many hate crimes Asians in America face on a daily basis. 
On January 28th, Vicha Ratanapakdee, an 84 year old Asian man, was shoved to the ground while taking a morning walk in San Francisco. Two days later he passed due to the injuries he sustained. 
A 52 year old Asian woman was savagely shoved to the ground at a New York City bakery. She hit her head on a metal newspaper stand and suffered a large laceration on her forehead, which resulted in many stitches. Her perpetrator was not charged with any hate crimes. 
A 91 year old elderly Asian man was senselessly shoved to the ground outside an Asian resource center by a 28 year old man. 
On March 14 in Midland Texas, three Asian American family members, including a 2 year old and a 6 year old, were stabbed. The suspect then indicated that he thought the Asian family was Chinese and, "would infect people with Coronavirus." 
A 64 year old Vietnamese woman was robbed in San Jose while she was buying groceries for Lunar New Years.
But why? Why is this all happening? 
According to ABC news, "The FBI assesses hate crime incidents against Asian Americans likely will surge across the United States, due to the spread of Coronavirus disease … endangering Asian American communities." 
Since the start of the Covid-19 world pandemic, Asian Americans have been faced with increased racism and xenophobia. Many racist comments have been used in reference to Asians during the pandemic such as, "Bat Eater," "Go back to China," "Chinese Virus,' or "You don't belong in this country." 
Racial slurs, however, have been said to Asians long before the start of Covid-19. It has almost been normalized or tolerated to do things such as pull your eyes to make yourself look "more Asian" or mock the way Asians speak. But now it's getting to a point where Asian lives are in danger. The trend of disrespecting a race due to normalization needs to stop. Lawmakers and politicians have recently started taking a stand to denounce the violence that has been occuring. Most recently, Nancy Pelosi and house Democrats have called for action against hate crimes. There has also been a surge of protests in major cities fighting for Asian rights. 
But change starts with us, and not the government. The behavior and culture of disrespecting Asians has been carried down and normalized, to the point where kids even believe it is normal to pull their eyes back. This shouldn't be the way things are, there are so many simple ways we can help and try to make a difference, to make the world a better place.
These can include simple actions such as: 
Stopping the normalization of saying racist asian slurs

Being more educated and open about customs and cultures

Treating people with respect and kindness 
As of right now, it's important that we come together and condemn the actions that Asian Americans have faced in the wake of Covid-19. It's time we all come together and defeat the virus that is hate.   
Leave a Comment
About the Contributor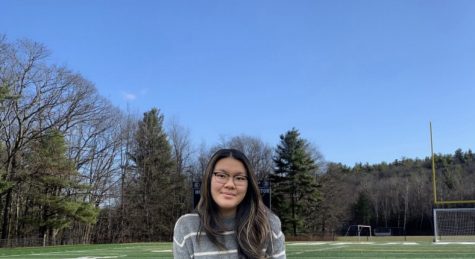 Helen Yan, Journalist
Helen Yan is currently a sophomore at Oakmont Regional High School. She is the founder of Oakmont Debate Club,  enjoys participating in Color Guard and...