Oakmont JV Sports
Hang on for a minute...we're trying to find some more stories you might like.
Coaches:
Field Hockey – Mr. Edward Fitzgerald    Freshmen Football – Mr. Brian Billings
JV Football – Mr. Mike Chartrand  Girls' Soccer – Mr. Daniel Dufour   Boys' Soccer – Mr. Lawrence Szalay
Girls' JV Field Hockey:
To kickoff the season, the undefeated JV field hockey team earned shutouts in their season opener against Littleton (3-0), and their second game versus Lunenburg (2-0). The girls carried on their winning streak with a come from behind win against Quabbin (2-1), and defeated North Middlesex (9-0). Coach Ed Fitzgerald credits the success to the teams overall flexibility and cohesiveness. With only 15 athletes – 4 of which have never played before – the team's willingness to try all positions and embody unselfish attitudes play a key role in reaching their goals. Short term, they're "looking to get better and improve every time [they] take the field," said Fitzgerald. Eventually, he hopes for all players to reach their fullest potential and become properly prepared for the next level of play. The field hockey team anticipates their ongoing hard work to better their skills, will lead them to a successful season. The girls depend on each other; after all, Fitzgerald believes, "everyone plays an important role, and everyone needs to contribute every time out if we are going to be successful."

Freshmen Football:
With determination and hard work ahead, the boys' freshmen football team has loads of potential for success this season. Coach Brian Billings, assisted by Coach Todd Bosselait, has a difficult challenge this season: blending all the players into a one cohesive unit. Similar to other sub-varsity sports, "the players come to the freshmen team with a variety of backgrounds and experience levels on the football field. Some have played a great deal of youth football, and just need their skills refined and updated to be ready to play at the next level. Others have not even watched a football game before, and need to be taught the game from scratch. Then of course, there are all levels in between," explained Billings. The team is made up of a core group of 9th graders, both returning and new, along with the other nearly two thirds of the team consisting of 8th graders. Returning freshmen, Cam Breton, Austin Grimley, and Billy Wirtanen, are the team captains. Breton, slot receiver and cornerback, has good hands, and runs great pass routes. Grimley, a reliable blocker, also has fantastic hands, and has become a much improved tackler. Wirtanen, quarterback and safety, epitomizes the term "student of the game", and knows the assignment of almost every position on the field. The exceptionally experienced and talented group of boys aims to improve each and every day, further develop an understanding and appreciation for the game, and learn lessons that apply not only on, but also off the field. The primary mission of the boys' freshmen football team is to prepare all their players for play at the next level. Along the way, they try to have fun and win games, but player development is the main focus. The fundamentals are key at this level; Billings and Bosselait teach safe, effective blocking and tackling techniques, and also attempt to get better at the basics: passing, running, catching, and defending. Billings tries to, "challenge the players mentally with different personnel packages, offensive schemes and defensive alignments." Most importantly, all of the coaches of the boys' football program believe,  "these cerebral challenges will pay off one day when the players are exposed to Coach Asadoorian's college level offensive and defensive systems."
Boys' JV Football:
The boys' JV football team starts to see their hard work pay off right away, and earns a 2-0 record defeating both Lunenburg and Clinton. Coach Mike Chartrand, assisted by Ryan Laliberte, works to help the boys grow as a team and improve individually, each time they step onto the field. As Laliberte believes, their, "passing game is more advanced than a typical JV high school football team," and in combination with their strong defensive line has pushed the team ahead of the competition, and helped to pull together wins for the team. Though still early, the offensive lineman and run blocking has already improved significantly. The team's pass coverage by their linebackers, and defensive backs is consistently getting better. The boys' football team remains undefeated, and has benefited from great leadership displayed by Hayden Hjelm, and Charlie Chinian. Not to mention, Ryan McKenna, freshmen at Oakmont, who has been an asset to the team's offensive aerial attack from his quarterback position. Similar to the freshmen football team, coached by Brian Billings, the JV football team works to prepare all their players for the varsity level with Coach Asadoorian. The team aims to carry on their winning streak, and awaits the anticipated "Chicken Bowl" versus Gardner later this season.
Girls' JV Soccer: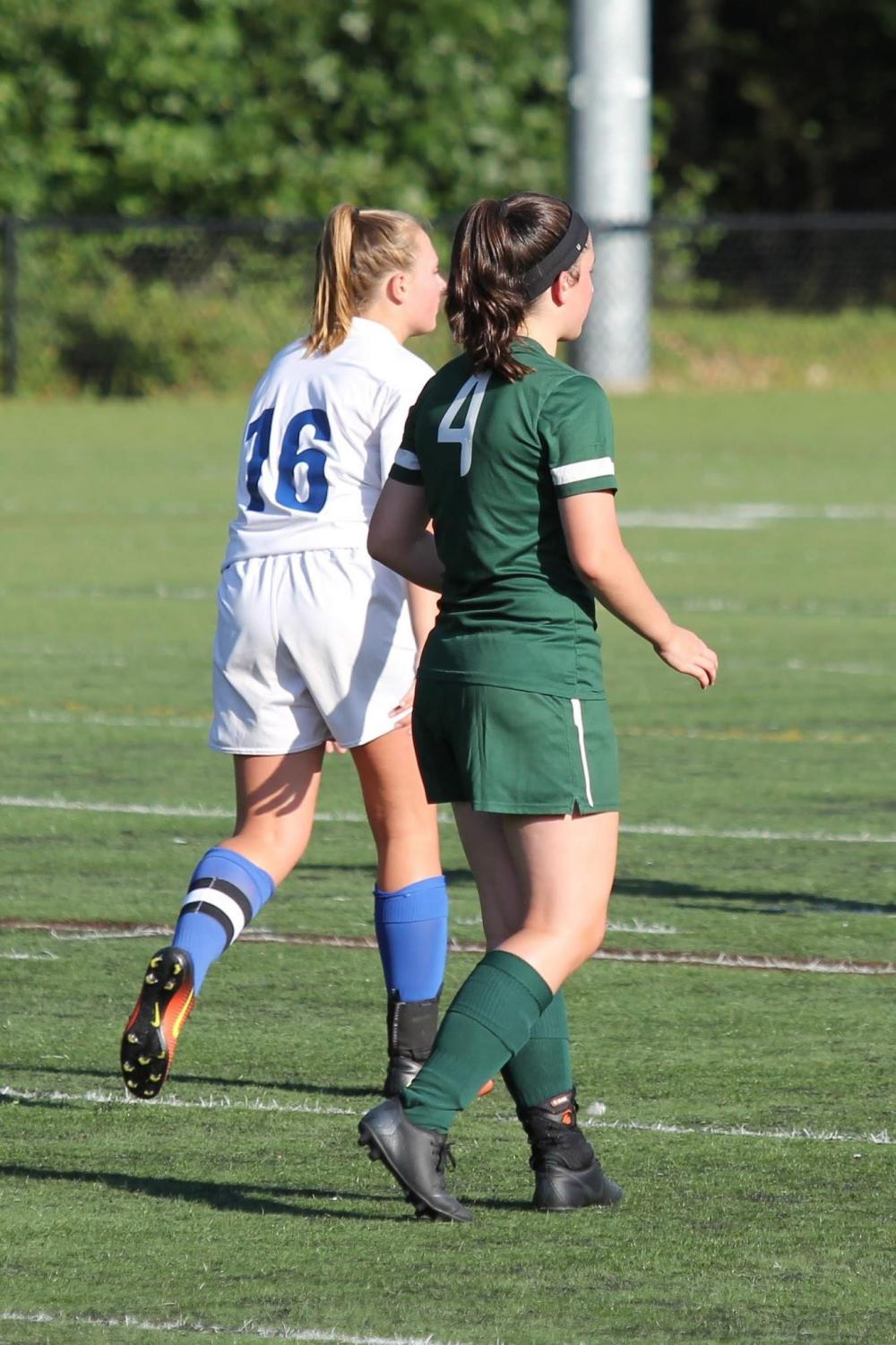 Starting their season off on the right foot, the girls' JV soccer team holds a 3-1 record in the Midwatch Division C League. Although the team is very young, 14 of the 20 girls played together for the last two years at Overlook. Oakmont's application for an eighth grade girls' soccer waiver was accepted this year, adding nine eighth graders to the team – all of which have strong skills and the ability to play in unity with one another. Coach Dufour believes the eighth graders assets, combined with the skills and abilities of the other freshmen and sophomores, will lead the team to success this season. The girls have lots of work ahead, but have already begun to show improvement in communication, especially on the field. Players were initially hesitant to take on the authority role, but are beginning to learn that a good team communicates. Sophomores, Ella Clark, Megan Leger, Allie Raymond, Lindsay Romano, Jillian Smith, and goalie Katie Smith will stand out as leadership for the coming season. The girls' JV soccer team is looking forward to improving their individual and team skills every practice and game, while pulling together wins this fall. The girls' soccer team anticipates a successful season, and would like to wish all Oakmont athletes, "a successful season personally, and as a team," this year, "#bleedgreen," as Dufour expressed.
Boys' JV Soccer:
Coach Lawrence Szalay, works towards one goal every time the boys step onto the field: improvement. As a young team, the boys are beginning to find their roles, and work together as one. The team gives every game and practice their all, in hopes of improving both their individual skills and ability to think the game of soccer. Similarly to past years, the boys' soccer program has an eighth grade waiver allowing them to roster 10 eighth graders on the JV team, in addition to the freshmen and sophomores already playing. The extra year to develop players has proven beneficial both to the soccer program and the players themselves, not to mention the great deal of energy the eighth graders have brought to the team. Win or lose, the boys are, "[a] team first and foremost," stated Szalay, and will continue to grow throughout the season.