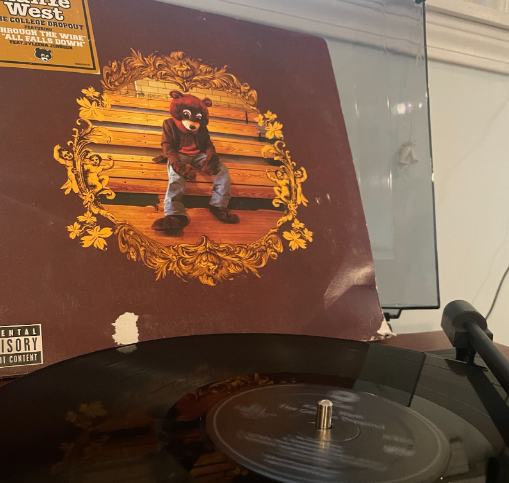 The College Dropout by Kanye West is single-handedly the best rap/hip-hop album ever made. Every song is a banger, every single one, and "Through the Wire" is the best song. THE best song. Ever. It was made when Kanye was still a producer for Rockafella records; they only let him make it so they could keep one of their best producers, and low and behold, it became one of the most influential rap albums ever.
The album shaped what hip-hop would be for years to come. Kanye stood out among rappers at the time, as he wasn't from a bad neighborhood, a gang member, and didn't really partake in any criminal activity. Sure, he rapped about girls, but he also rapped about things like Jesus, and how much he loves his mom. He was one of the first hip-hop artists to advocate for gay rights. Not to mention, it was a fantastic album.
The cover shows him in a school mascot costume: slumped over and hiding his identity. It shows the embarrassment of being a school mascot, directly relating to the equal disappointment that comes with being a college dropout. It also established "the dropout bear", which was a major part of his identity in his original trilogy of albums. He really showed off his producing skills on this album, with the sampling work on "Jesus Walks", "Through the Wire", and "All Falls Down" being some of the best in his entire discography. Here's a breakdown of each track: 
We Don't Care
Kanye's opening track: it's catchy and is the only good use of children singing ever. It's about growing up as a black child and denying authority. It was the first Kanye song I really loved on first listen. It really sets up the mood and vibe for the rest of the album. 
2. All Falls Down
In my opinion, this is the first real masterpiece in Kanye's discography. Its iconic sampling and meaningful lyrics make the song a classic. I feel like this is the perfect song to show someone if you want to get them into Kanye's music.
3. Spaceship
I love the down-to-earthiness on this track (ironically): it's very chill and gives you a sort of break after two bangers in a row. The song makes nice noises to my ears.
4. Jesus Walks
This song is easily better than ALL of Jesus is King (Kanye's 9th studio album). It talks about how singing about God or religion in your rap is seen as a bad thing, and how it really shouldn't be. If you're faithful to a religion, why shouldn't you make music to express that?
5. Never Let me Down
It's yet another banger, what can I say? (no really, I don't have much to say on this one).
6. Get em High
Probably the worst song on this album, which isn't much to say considering it's amazing (oh my god, who would've thought). It really shows the quality of this record, and if it was on any Drake record, it would easily be the best song.
7. The New Workout Plan
My first Kanye song I really obsessed over. It's really catchy and unique and it was the first song on this album I considered my favorite. After the second chorus the song falls off hard, but the first half is so good I feel like it makes up for it.
8. Slow Jams
It's another slow song (as implied by the name). Oddly enough, I love these slower songs and feel like they really boost the album for me. If it was just banger after banger it would get tiring quick. It's why I consider this album better than Graduation.
9. Breath in, Breath out
It's a really good song, probably top 5 on this album. The song is super underrated in my opinion and needs more love and attention. The chorus hits so hard, and it's fun to listen to, although I don't know why this one always felt like a guilty pleasure. I mean, I guess listening to Kanye in the first place is a guilty pleasure. 
10. School Spirit
Sampling is great: it feels like it should be annoying but it works with Kanye's rapping so well. I don't have much to say on this one, it's just another great song.
11. Two Words
Super hard-hitting and aggressive, this one's on repeat for me at the moment; it's so fun to listen and sing along to. I think the feature brings this track to greatness, Kanye's production always fits the voice he's doing it over. 
12. Through the Wire
This is Kanye's best song (ok, it is a little bit of an exaggeration, but I don't care). Here's some background: while making this album, Kanye got in a car accident and broke his jaw. He had to get it wired shut, limiting his rap abilities. He pulled through anyways and managed to rap while his jaw was wired shut, henceforth, "Through the Wire". This song is so good, everything about it is perfect to me, the sampling and rapping is fantastic and is just such an iconic track. The rapping sounds weird and mumbley but that's how it had to sound while Kanye's jaw was wired shut. It's impressive it sounds as good as it does. I love this song more than I love myself.
13. Family Business
This song is one of the more emotional on the album. It's about appreciating and loving your family no matter what. And production wise, what can I say that I haven't already said a thousand times about these songs? It slaps.
14. Last Call
This song is interesting to me because it's about 12 minutes long and half of that is just him talking. Yet, somehow, it's still a great song. No other artist could pull off something like this. Sure, I won't be adding this to my playlist any time soon or anything, but it's great and I feel like everyone should spend 12 minutes of their day listening to this track at least once. It's the perfect bow on top of this perfect album.
The College Dropout is not only my favorite Kanye album, but my favorite hip-hop/rap album ever. It's perfect from beginning to end. Yeah, all the skits between songs are a little annoying, but the songs themselves are peak music. I think if you're getting into Kanye, this is a must-listen. I think if you have any interest at all in good music, you should be listening to this album. 
Yes, I'm aware people hate Kanye, and I know I've been praising him to no end this entire article. I feel like phrases like "separate the art from the artist" and "listening to him doesn't mean I agree with him" are common when talking about Kanye and being a Kanye fan. A bad person can make good art just as a good person can make bad art. I understand if the fact it was made by such a controversial figure turns you off from it, but I still think that this is one of the best albums ever made.  While I don't agree with his controversial statements, I can't pretend I don't love this guy's music and how it has inspired me. This album truly means a lot to me.