New Electives and Courses You Should Consider!
New Electives and Courses You Should Consider!
There are multiple electives and courses you can take at Oakmont, some new, some old, some that are coming back to this district, and some starting in the next school year. There were a total of around four new electives and three new courses that came in the last two years. 
The electives are Communication in the Age of Social Media hosted by Mr. Timothy Caoutte, Diversity in Literature hosted by Mr. Alex Dewhurst, Music Production and Music Appreciation hosted by Mr.Kris DeMoura.
The courses are AP World History is returning and is hosted by Mr. James Ethier, Global Voyager hosted by Mr. Dana Altobelli, lastly Unified FItness hosted by Mr. Scott McGrath
For English electives, we have Communication in the Age of Social Media and Diversity in Literature. 
In Diversity in Literature, you will read and view authors from different cultures. According to the Program of Studies on Oakmont's home page, it states "This course is designed to expose students to stories, ideas, people, and cultures that they might not otherwise get to experience." This is true because of what Mr. Alex Dewhurst said about his course "..it shows how we developed different cultures and how we adapted to them". If you're interested this course is for all grade levels, "I put it for all grades freshman, sophomore, junior, senior because no matter what the skill level the student has they will be able to participate in the class," said Dewhurst.
In Communication in the Age of Social Media, you could learn various ways to communicate. According to the Program of Studies on Oakmont's home page, it states "Students will learn to explore communication skills through both verbal and nonverbal practice while understanding social media fundamentals and basic social media etiquette."  Mr.Timothy Caoutte, who runs this elective says that "…by applying social media as a variable, and we communicate and we design that information. We thought that we could discuss rhetorical strategies, end goals, rehabilitate lines of business, or just intellectual communication." In this course, you can learn multiple new ways to communicate from social media and how we communicate in person. If you are interested in this elective, Caoutte says that freshmen and sophomores can take this class but with the maturity that comes with this class, he would mostly turn it in for juniors or seniors.
For our new history course we have Global Voyager and returning back to us we have AP World History.
In Global Voyager you will learn a variety of topics that affect different regions and countries around the world. Those topics are "human and physical geography, economics, sociology, anthropology, history as well as a smattering of science", this was all found in the Program of Studies. According to Dana Altobelli, he made this course because "It's a more contemporary look at the world, it's more current events look at the world as opposed to a deeper history. You look at some history in the class, but it's much more a modern look at the world, which I think is probably more interesting and more relevant to students." The course is made for freshmen since Altobelli thinks it is a welcoming entrance for high school students. So if you have a younger sibling who you think would be interested in this class, you should recommend it to them.
In Advanced Placement (AP) World History returned to the school because "…we felt as a department we wanted to have more than a variety of classes. We only had one Advanced Placement class in history, we felt like we needed one more." said James Either. In the program of studies, it reads "AP World History develops a greater understanding of global processes and contacts in different types of human societies. The course highlights the nature of changes in global frameworks and their causes and consequences, as well as comparisons among major societies." according to Eithier you can gain many advantages in this course as he says "It's a higher level of difficulty, also a big thing is its learning how to close read, analysis, connecting historical events, you will always come out of it as a much better writer." Eithersaid the grade levels for this course can be anywhere from sophomore to senior but he usually has sophomore and senior students in the class because "sophomores and seniors because juniors generally take a push which is Mrs. Bergin's class, AP United States History. I wouldn't go any younger than a sophomore."
For our new music electives, we have Music Production and Music Appreciation. 
Both of the music electives are run by Mr. Kris DeMoura. When I interviewed Demoura he described both of the courses in a scheme on how you could take the courses. As he said, "Usually music appreciation is for underclassmen to kinda get them interested to the other classes, cause my master plan was kind of like apprehension entry-level course then you move to Rock and Roll 1 and Rock and Roll 2 and then you enjoy that and you can take you to know some the ensembles or Music Theory."
As for Music Production, you will not need any music experience to take in this course. You will also get provided with hands-on experience as it states from Oakmont's program of studies,"Students will be provided hands-on experience with the technology in order to gain a first-hand understanding of the cutting-edge innovations that exist in the Music Technology realm." Demoura thinks that "… we're able to introduce more current music landscape things where kids are really enjoying making their own music, in a sense of electronic music." DeMoura said that Music Production can fit all grades but he thinks the earlier you can get involved the more you can find what music you appreciate.
Lastly, our new fitness class is Unified Fitness.
Unified Fitness which is run by Coach Scott McGrath, is a course that is good if you want to participate in the friends club. According to Coach McGrath, he stated: "I see this course as a setting where all students, regardless of their ability level, can have a positive experience in a fitness class." In Oakmont's program of studies it reads "Through the use of team sports and activities, students will discover new strengths and abilities, practice skills such as sportsmanship, and learn about the importance of physical activity." So if you aren't that much into competitive games, but you want to work as a team with your classmates, I would recommend you take this course.
Leave a Comment
About the Contributor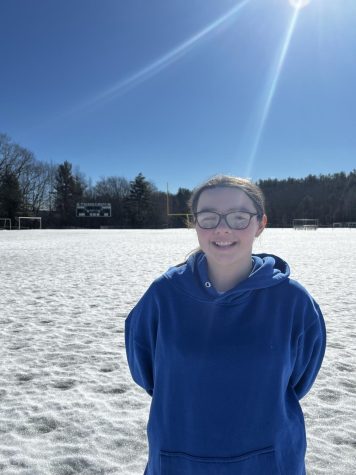 Kelly Sandmann, Reporter
Kelly Sandmann is part of The Oakmonitor and in the Class of 2026. This is her first year being a member of The Oakmonitor. She is passionate about playing...