New Year, New Turf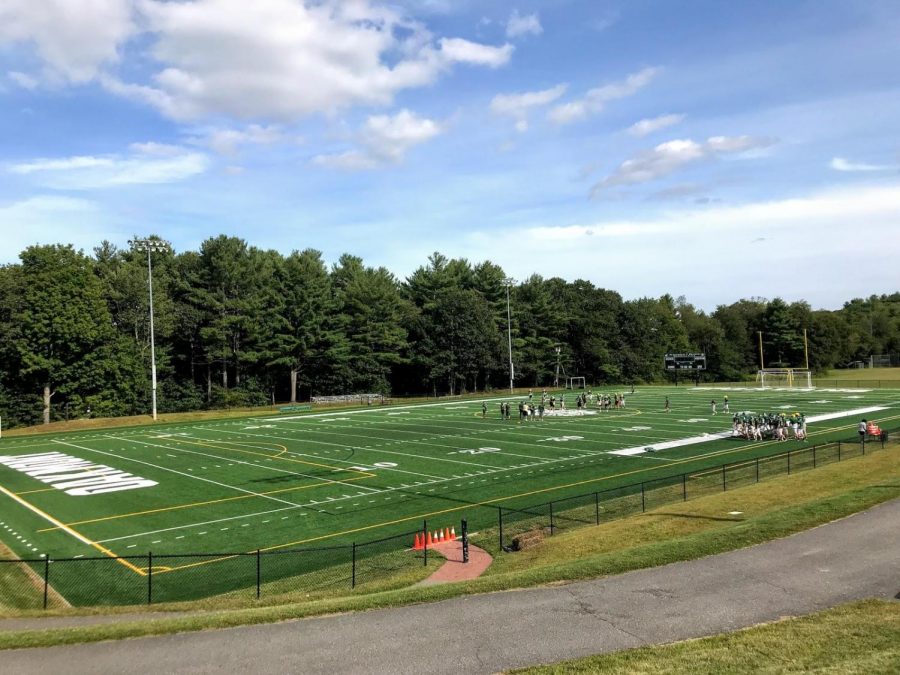 Alliyah, Cate, Delaney, Authors
September 23, 2019
The lights flash on each night, lighting up the bright green turf. It's hard to miss, with players competing on it almost every day. It certainly is an important upgrade to the former field.
Last October, after years of planning for a new turf, the project was finally approved. It had been twelve years since the turf had last been replaced, and the 23 varsity athletic programs and 50 sports teams at Oakmont and Overlook were finally receiving a new turf. 
But why did we need to replace it?
"Simply, as time goes on, the fiber, which is basically the artificial grass, breaks down and with the previous field, the fiber was breaking down significantly," stated Eric Dawley, the athletic director  at Oakmont Regional High School for nine years. 
 The life of turf fields is about 10-15 years, according to Dawley. 
Over time, infill, which are the small pieces of crumb rubber and sand which lay between the blades of grass, moves around and compacts, as stated by Astroturf. Which means there is less cushion between the athlete and the stone base. So, if players fall, there is a higher risk of a concussion. 
So, is it safer to run on turf?
Ms. Allen, the athletic trainer at Oakmont Regional High School, believes that athletes are less likely to get injured when running on turf, rather than on grass. 
"When athletes run on turf, they know that the surface is even, so they actually play more confidently," says Allen. "If they were to play on grass, there are divots and uneven grass lengths which could cause a lot more injuries." 
"Athletes would fall and slip and get an abrasion on their leg," Allen said about the old turf. "The probability of that happening decreases with the new turf."
Allen also pointed out that old turf held a lot of bacteria and dirt, which could have caused infections or disease.
  Replacing the turf was a big project, one that took lots of time and money. Ashburnham, Westminster, and the combined school district all contributed money towards the project.
Coaches, players, and also band members, who use the turf are grateful that it has been replaced. 
"I think my players are really excited about the new turf," says Leanne Roy, varsity field hockey coach at Oakmont Regional High School. "Especially when you compare it to moving the ball on the grass." 
Freshman Payton Collete, who plays junior varsity field hockey at Oakmont High School is also excited about the new turf.
"It's easier to use and the lines are clearer than they were before," says Collete.
"The biggest benefit is safety," said Ed Fitzgerald, the junior varsity field hockey coach and assistant athletic director at Oakmont, "And our athletic directors, past and present, have always had safety in mind, and especially in the sport of field hockey, turf is the safest surface to play on." 
Dawley is also thankful for the new turf and how it benefits athletes and our entire community. 
"I'm just really excited for our school and our community to be able to complete this project. We're fortunate because there are schools that simply haven't had a turf field ever and we're on our second, and I'm just very grateful, and we all should be grateful to our school and our community for investing in our athletic program and our marching band."