Teachers' First Cars
At this point in our lives, there are many of us who have had the great experience of getting one's first car. For some of us it may have been handed down by friends or family, or bought from a dealership. No matter where it came from, there's no feeling quite like driving in your own car for the first time, a feeling our teachers know quite well – if they can remember . . . lol. A feeling of freedom, responsibility and a small amount of anxiety will accompany you with your first car. The ages of the cars vary but the memories still just as special: from having no heat in the middle of winter to spinning out on the highway there's no shortage of great stories.
Mr: Caouette: I had a Blue, 1986 Chrysler LeBaron. Purchased it from my Grandfather for $1.  That is about all it was worth. There was a rust hole in the floorboard of the passenger seat. I kept a piece of plywood in the trunk for when it rained so any passenger wouldn't get wet.  (the hole was biiiig).
Mrs. Champa: My first car was an 03 Toyota Prius; her name was Ronda.
Mr. Dawley: Mine was a 1983 Plymouth Sapporo, Silver, manual shift, sunroof, no heat. I bought it myself from a family friend for $500.  Purchased the car before I had my license.Used to drive it up and down my driveway before I had my license.  Had blankets in the car in the winter as it had no heat. The windshield would freeze up and I would have to rely on engine heat to melt ice off windshield….on the inside. I scraped the inside as well. Most often times, drove with window open in the winter and stuck my head out so I could see until ice/frost ultimately melted enough.  Usually just about the time I arrived at school.
Mr. Dewhurst:  My first car was (and is) a red 2010 Chevy Cobalt. I bought my first car from a dealership in New Hampshire and financed it myself when I was 18. Being my first car, it has a special place in my heart. It has been my car during college, for my first job, and for my first place living on my own. It doesn't have many miles left before it completely falls apart but I will cherish those miles.
Mr. Dufour: I had this silver 91 Mercury capri convert, prototype for Mazda miata. How did I get it?  Well, I opened the door and sat. Then I shut the door and put my foot on the brake. Then I turned the key to start it and released the key.  Then I put it in drive and switched my foot from the brake to the gas. Then I got it. Actually, I bought it cash, $3000, from a small private dealership in the 'burg. We called it the Silver Bullet.  I don't think the convertible top ever really worked.  My friends and I used to practice running and jumping into the seats instead of using the doors.  The back seat sat half a person, it was super cramped. It went from 0-60mph in 3 days. The motors to put the lights up had died so I would have to manually put them up and down.  It was a dream….
Mr Ethier  I Had a  Blue 88 Ford Tempo, cat license plate, that was passed down to me.
Mr. Samuels: My first car I bought myself. It was 2003 Jetta. I got it after high school (2006) and it was red. It gave me a sense of independence and at a young age,and how I learn to appreciate things that I have I guess. I can't really think of a fun memory, but the one that stuck with me was spinning out on a highway in the rain (luckily not hitting any other cars), facing the oncoming traffic with a broken axle and having to get to safety.
Mrs. Smeltekop:– My first car was a 98 green Chevy Blazer with Zebra seat covers. I bought it myself, from my dad, it was $3000.
About the Writer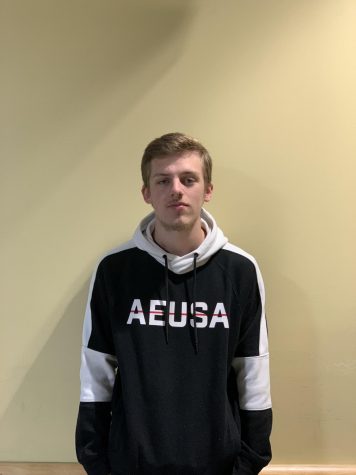 Ethan Bastis, Journalist
Can cook minute made rice in 58 seconds