ORHS Alumni Check Back in Years Later
Hang on for a minute...we're trying to find some more stories you might like.
High school has been all about learning and preparing you for the 'real world', right? We have all wondered where we would be after these four years, even after your years in college, or wherever life takes you. I gathered a few quotes from family and friends to see where life took them. 
"I'm at Worcester State I'm majoring in Finance with a minor in Computer science. I work in Finance as a Purchasing Intern for Infineon Technologies. Can't say I put in effort academically back then at OHS I graduated with a 2.4 I think… (Yikes) but OHS sports gave me a good work ethic to want to compete and beat everyone. However after I retired from sports the only thing to focus on was academics so I put my effort their and it showed with my Gpa (3.8)"– Justin Streeks Class of 2016
Fun fact: Oakmont Faculty who also attended Worcester State, Mrs. Tayna LeBlanc 
"I'm a senior at Bridgewater State University majoring in speech language pathology with a minor in psychology. I graduate in May, with hopes to pursue graduate school to complete my masters at Bridgewater as well. I nanny for two different families aside from being a full time student. Oakmont has given me the confidence to fulfill my goals and has given me the work ethic and built my stamina needed to do so."-Angela Albert Class of 2016
"In May of 2018 I graduated from the University of Rhode Island with a bachelors of science in business administration with a concentration in marketing. During my senior year of college I worked part time as an intern with SPIRIBAM fine rum specialists and I graduated with a full time position as a marketing coordinator at the same company. I now hold the position(s) of a Marketing Associate and a part time brand ambassador for SPIRIBAM. I work in our main Rhode Island office and as a brand ambassador, I work with our broker to manage our MA and RI markets. Throughout my time in Oakmont I was in many sports in and out of the school system, student council, and part time jobs. Being so busy in high school has really helped me successfully manage a busy schedule and excel at each and every thing I'm doing."-Emily Albert Class of 2014
"I am a freshman at Bridgewater State University majoring in English and secondary education. Oakmont helped me get ready for college by showing us that we really do get out of Oakmont what we put into it. It was pretty easy to get a C in high school, but if I put more effort in and applied myself, I could've easily gotten A's. In college, I apply myself more to get those A's. Oakmont have also prepared me for college by making me join clubs and do things to put myself out there. Oakmont also showed me that you need to find what fits you the best and how you are talk. I'm transferring from Bridgewater to find a school that can help me learn better. Not saying Bridgewater is a bad school, but it's not for everyone. Again, you get out of Oakmont what you put into it."-Sydney Arnold Class of 2019 
"I graduated with my Bachelors Degree in Communication from UMass Amherst in May 2019. Shortly after,  I accepted a position in Denver Colorado as a Marketing and Sales coordinator with HelloFresh. Oakmont is filled with so many amazing opportunities to help you grow. The teachers will help push you to succeed your fullest potential and help build you to make sure you have all the tools you need in order to achieve your dreams. The skills and tools that you gain at Oakmont will help you in your everyday life professionally and personally."-Blaire Teirnan Class of 2016
Fun fact: Faculty who also attended UMass, Mr. Dufour, Ms. Miville, Mrs. Ewell
"I am a Freshman at Springfield College majoring is Sports Management. I'm hoping to pursue a career in either a major or minor league sports organization. I also continue to play ice and ball hockey along with being a full time student. Oakmont has helped me be prepared for college life by teaching me time management skills and has also given me the opportunity to intern for a position in my desired work field. Oakmont has also helped me grow as a person and create lifelong relationships."-Casey Cormier Class of 2019
Fun fact: Faculty who also attended Springfield College, Mr. Nevard, Ms. Miville 
"I'm a junior at Keene State College majoring in communications with a minor in public relations. I'm the president of my sorority and intern at a PR startup company. I am graduating a semester early and hope to move out to San Francisco  to work at a Public Relations firm. Oakmont has taught me that high school is not the most important part of life and there is so much more excitement to come afterwards. It also taught me that it's okay to not know what you want to do with the rest of your life or what your next moves are after high school. I didn't have the best GPA in high school at all and it did not affect me in any way, so try hard with grades, but don't take it as seriously as you think you need to."-Arianna White Class of 2017
"I graduated with my Bachelor's in psychology from UMASS Amherst, and my masters in Organizational Psychology and Talent Management from William James College. During grad school I got a job as a recruiting coordinator at a translation/technology company in Waltham, and was recently promoted within one year of starting to a Talent Sourcer. A lot of my success has definitely stemmed from the various activities and leadership opportunities I had while at Oakmont, as well as the mentorship from my coaches, teachers and advisors"-Kayla Costa Class of 2013 
"I'm currently a Freshman at Springfield College, majoring in Sports Psychology & minoring in nutrition. What Oakmont has taught me is becoming more independent & to pursue any goals that I want to accomplish for my future. Mrs. Roy has always taught me to never give up on anything I set my mind too, shout-out to her. What you put into Oakmont is what you get out haha"-Nicole Morin Class of 2019 
"My name is Lucas Ghilardi, I'm a Junior at UMass Amherst studying for a degree in Natural Resource Conservation. I graduated from Oakmont with the class of 2017. I think the most helpful skill I learned from Oakmont in my four years there was how to be a good self-advocate. That can mean being comfortable asking for extra help, approaching teachers about deadline/exam conflicts, or even talking about personal struggles getting in the way. I got a lot of practice with this in high school, which has helped me tremendously in college. I have had classes at UMass with as many as 350 students in them, and professors would never know my name if I let that be the case, but when things arose that I needed to talk to them about, I was not intimidated at all. I had been easily able to approach my teachers before, so I knew my professors would be more of the same: kind, cooperative, helpful, and approachable."-Lucas Ghilardi Class of 2017 
About the Writer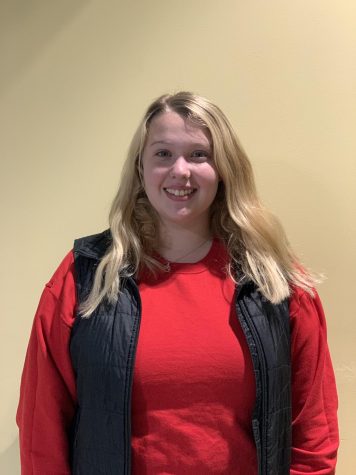 Caroline Albert, Oakmonitor Online Editor
Senior, Adviser of the Oakmonitor Online