Food review: the Travy Patty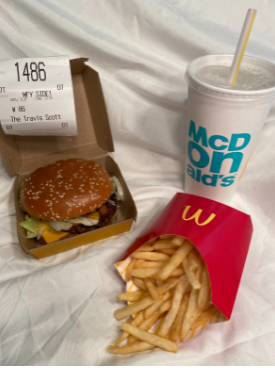 We had the Popeyes' chicken sandwich, we had the Chick-fil-A sandwich, now it's time for… The Travis Scott.
Travis Scott, born on April 30, 1991, creates music that has been described as hip hop, lo-fi, and ambient. He is mainly known for his album Astroworld, released in 2018 which produced his first Billboard Hot 100 number one single, Sicko Mode. He also has his own record label, Cactus Jack Records, which he created in March of 2017.
Coming in at about 630 calories, The Travis Scott is a creation of famous American rapper Jacques Berman Webster II, also known as Travis Scott, favorite Mcdonalds' combo. His meal includes ¼ lb of 100% fresh beef patty, topped with sliced onions, delicious pickles, two slices of melty cheese, and ketchup and mustard.
You may be thinking to yourself, "Isn't this just a standard quarter pounder with cheese?!" Nah. it's also got shredded iceberg lettuce and crispy bacon, because that's how Jack likes it (straight up!).
"We recommend getting the whole Travis Scott Meal, because honestly… it slaps!" McDonalds says.
Charlie Kovaleski, a senior at Oakmont Regional, has had The Travis Scott. "It's not bad," he states, "I thought it was gonna be bad, but it's better than expected."
Mary Carpenter, also a senior at Oakmont Regional, said the appearance of the burger did not look as good as the commercials. "I didn't expect much, so I thought it would be worse than it was." They said, "I would have it again."
With positive reviews must come negative reviews. Fans of Travis Scott were a bit disappointed with the $6 meal. People on Twitter tweeted out to Travis Scott and McDonalds themselves.
Twitter user @LilSantaClaus, Tweeted on September 8th, "Just ordered my Travis Scott meal @McDonalds what the — is this?" The attached picture shows a burger missing the key ingredients in making The Travis Scott.
Twitter user @Rolling_Flowers tweeted on September 9th, "When you order the new #TravisScottmeal but get the Nasty Patty from Spongebob. I hate #McDonalds – Like at least cook the fries through!" The attached picture shows a messily made burger and soggy fries.
Because of these mixed reviews, I thought I'd spend a whopping $6 on The Travis Scott for lunch.
I decided to go to the Mcdonalds on John Fitch Highway in Fitchburg, MA. I understand that different locations make them differently because hello, we're not all the same person.
The Travy Patty was a darn good meal, if I do say so myself. The burger itself was very moist, the cheese was just right, and had the perfect amount of onions, pickles, ketchup, AND mustard! The bacon was surprisingly crispy and the lettuce was not soggy! The bun could've been more plump, but I'm not complaining about fast food… it's called fast food for a reason. And of course, the signature Mcdonalds fries were perfect as always.
The Travis Scott is recommended to be consumed with Sprite, but I personally do not like soda, so use that information as you please.
But all in all, I would highly recommend Travis Scott.
Sorry, there are no polls available at the moment.
Leave a Comment
About the Writer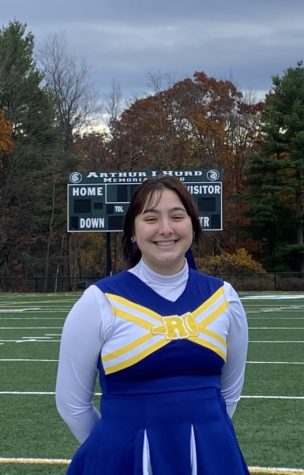 Regina Cerasuolo, Journalist
Regina Cerasuolo is currently a senior at Oakmont. She is part of Oakmont's drama club, and occasionally ping-pong club. She is an animal lover and helps...