Hubie Halloween: A Five Star Review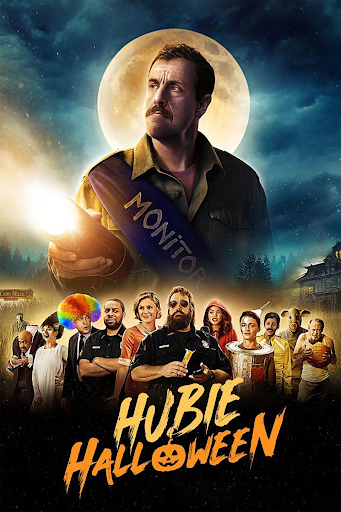 Halloween is very different this year, with towns canceling the holiday altogether to towns hoping that if they don't cancel the kids will stay socially distant. This year on Halloween, it's supposed to be a full moon and everyone should take advantage of the scary night and not let their Halloween spirit die off. 
Instead of going out this year, you could bundle up with your family or a few of your friends and watch some horror movies, or the classic Halloween movies from our childhood like Hocus Pocus, The Nightmare Before Christmas, Halloweentown and others. 
A great movie you could watch is Hubie Halloween, a new Netflix movie that has many well known actors in it such as Adam Sandler, China Anne McClain, Kevin James, Steve Buscemi and many more. I recommend watching the movie before reading this article as I talk about something revealed within the movie, but I won't spoil the ending for you.
Hubie Halloween is now one of my favorite Halloween movies. The acting done by Adam Sandler to portray Hubie is both flawless and hilarious. He never breaks character, even during the most ridiculous parts. So, if you're not too into scary movies but still want to be in the spirit of Halloween, this movie is perfect for you.
In the very beginning, we see a patient being served food at a psychiatric hospital. The worker, Hal, (a callback to the movie Happy Gilmore) is talking to the patient, Mr. Loon E Tunes, before he finds that he's missing from his cell and the window is open. We see said patient walking away from the hospital before shifting to another scene. 
In this scene, it opens up with Hubie riding though Salem, Massachusetts on his bike around Halloween, as he patrols the people walking around the town. Hubie still lives with his mother in this town, and every Halloween he goes around the town and makes sure the kids are being safe and fair with their trick or treating.
Throughout the movie, we see Hubie being made fun of because he's different than everyone- nobody in the town really likes Hubie. He gains the nickname Pubie early in the film, which I found really funny. Both adults and kids play tricks and make fun of poor Hubie, but he only stays positive and cheerful towards everyone.
Before Halloween, Hubie gets a new neighbor, Walter Lambert, who seems very friendly and welcoming, then he takes a suspicious turn by telling him to not investigate if Hubie hears any weird noises. On Halloween, we see Walter boarding up his doors and windows. When Hubie asks what it's for he only gets a half-hearted answer.
On Halloween, just like every other, Hubie heads out to keep the town safe, and on that same night people begin to disappear. Before this happens, the police chief makes Hubie head of a pretend group for the police to keep him away and stop reporting things. But, when Hubie sees someone get taken, the police don't believe him. So, Hubie sets off to solve this case by himself and keep the town safe along the way. 
During the night, Hubie is alerted to some strange noises coming from Walters house. Despite his warning, Hubie goes inside and finds Walter in disarray, and something is wrong. Hubie later finds out that Walter is, in fact, a werewolf. 
More people get taken throughout the night, and the police chief finally starts to believe Hubie's claims as he was alerted to the fact a dangerous patient has escaped the psychiatric hospital. Though they don't believe that his neighbor was a werewolf, Hubie is suspected of the crimes as he was at every crime scene but he manages to run away and tries to solve it on his own.
I won't spoil the ending, but I absolutely love what this movie does with the plot. The finale was unexpected, funny, and the perfect amount of surprise. I found that it was even inspiring or the movie is very well made and definitely worth the time to watch it. Every character is well rounded and is played beautifully by all the actors/actresses. Overall, I highly recommend you watch this movie if you have Netflix, you definitely won't regret it. This movie definitely gets 5/5 stars from me.
About the Writer
Krista Brotosky, Journalist
Krista Brotosky is part of the class of 2021 at Oakmont but is only now starting her writing journey. For her senior year, Brotosky decided to start the...