Getting around with Vespa!
Traveling from point A to point B is simple, you turn on your car, buckle your seatbelt and sit in your boring, stuffy car. But why can't this simple task be fun and exciting? Well, with Vespa it can be! 
Vespa has been a quintessential scooter since the 1940s. Its sleek and classy design makes going anywhere exciting. From city streets to country roads, your Vespa will transport you with ease. Designed in 1945 when transportation was needed, Vespa stepped in and made an affordable and innovative classic scooter. The scooter was an immediate hit! 
Now decades later, Vespa is thriving! The company, located in Pontedera, Italy, recently did a collaboration with Sean Wortherspoon, who is now one of the most famous sneakerheads and founders of the vintage Virginia-based sneaker store, Round Two. The collaboration launched on November 5th with a Vespa Capsule Collection. Many fans queued up outside waiting to get a glimpse of the limited edition collection. The top of the range "Primavera" Sean Wotherspoon Vespa ranges from $4,400 to $5,750. 
"Who's ready for the craziest Vespa they ever seen?!?" Wotherspoon said, to announce the partnership on his Instagram. The scooter is a mix of different materials including, plastic, velvet and rubber together with glamorous color combinations. The attention to detail is easily seen through this innovative collaboration! 
What's next for Vespa? Well, in late June 2020, the company announced another collaboration with Dior. As stated on the Vespa website, "Today, more than ever, the Dior and Vespa collaboration reinvents this spirit of freedom, movement and expression that drives them." This was a long awaited collaboration, considering both companies were founded in 1946! 
The limited-edition scooter is predicted to enter Dior boutiques worldwide in spring of 2021. With a whopping cost of $10,000, the Dior Vespa 946 scooter quadruples the price of a typical Vespa. The director of the scooter's design, Maria Grazia Chiuri, envisioned a beautiful piece of art that is well worth its cost. 
Under Maria's direction, the scooter's body is done up in cream with gold trimming. The outside has Oblique stripping and Dior's signature pattern on the underside of its blue framed seat. The accompanying helmet and hard case also feature this signature pattern. The latter accessory on the back of the scooter has been designed to fasten atop the luggage rack, adding a quality of practicality to what is ultimately a terrific collaboration.
With Covid now affecting almost everyone and everything, I reached out to Karen Purpura, the Operations Manager of Vespa Wrentham, MA to get a statement on how Vespa is doing. In Purura's email back to me she said, "There is always a demand for Vespas, but we have plenty of inventory." Purpura mentioned that, "..We have seen an increase in vespa sales," which is interesting considering everything going on in the world. In these troubling times, it's nice to see that quintessential companies like Vespa are still continuing to grow and thrive. 
Getting a Vespa is a great consideration! Their scooters are flexible for all types of budgets and their designs range from simple, as seen in the Dior collab, to complex and colorful like the Sean Wotherspoon collaboration. Wherever life takes you make it fun and thrilling with Vespa!
About the Writer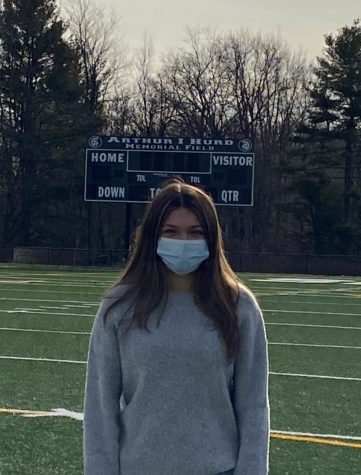 Caoileen Mullane, Journalist
Caoileen Mullane is currently a junior attending Oakmont Regional High School. She enjoys participating in FClub and OTV. Caoileen hopes to attend college...