French Flourishes At Oakmont
On December 5th, Oakmont held its French Honor Society Induction ceremony hybrid style –  in-person and livestreamed. The night – hosted and organized by program advisor Mme. Jakki Therrien – was filled with speeches, presentations, and acknowledgments, praising the hard work and dedication of a special group. 
"The induction ceremony means becoming a part of a great group of people at Oakmont," commented vice president Ana Grimes.
The eight inductees were Sara Buszkiewicz, Keira Cook, Ana Grimes, Carlie Lombardi, Jonathan Rossignol, Claire Wittmier, Emma Yoder, and Abigail Mulhall.
Mulhall appreciated the night as she said, "(The ceremony) was very well run and I'm glad I was able to take part in it."
 These students have held a studious 90 or above average in French I and II, along with a B average or above in all other classes. To remain in the program, members need to continue enrollment in French courses, as students will lose their standing in the program if French is available to them and they do not enroll.
Mme. Therrien appreciated the members' determination. ¨This group of inductees had to maintain their French 2 grades throughout the spring semester when school was interrupted for the first time by Covid and everything was in awful chaos. Amazingly, they stayed focused, completed assignments, and kept themselves eligible. I'm really proud of these kids.¨
There are a total of sixteen Oakmont students in the French Honors Society. Eight of them are the new inductees and eight are pre-existing members. 
As members of the program, they have duties of tutoring others and teaching and encouraging the student body about the French language and culture. 
"Community service is a major contributor to joining as well. You need to be involved in community service prior to joining. Then after you join you need ten hours each school year- this includes tutoring," explained SHF member Theresa Brouillet. 
Vice president Ana Grimes stated, "I think learning French culture is important because it helps us open our perspectives to learn about things that are different than we are used to."
Known for the bake sales, Société Honoraire de Français raises money to keep up and running. Alongside that, they donate money to different charities every year. These charities are mainly French-oriented. This year the program is donating to UNICEF, a non-profit organization in South Africa. This organization advocates for disadvantaged children and their families. This year many organizations are helping with COVID and although that's a good thing, SHF feels that funds for these children have been neglected.
In 2016 the charter for the French Honor Society was granted. In 2018 the program became self-sufficient. Mme. Therrien had applied for the charter twice, but at the time they were ineligible for the charter. They became eligible by the rebuilding of the French program. Before Mme. Therrien, there were only two French courses with around ten students in each and seemed on the way out. She was excited to come work at a school where the administration was positive about growing the program.
¨I am always thankful to all my wonderful students for making every day different from the one before, for the energy they bring to my classes, and for their willingness to do the countless hours of study that goes into this!  Thank you also goes to those who hired me to do this job I love at a school I love.¨
When Mme. Therrien came to Oakmont, French was ¨On the way out¨ of the school. She was excited to come work at a school where the administration was positive about growing the program. 
Mme. Therrien stated, ¨This district is run by people who understand the need for students to be educated in a way that prepares them for the ultimate goal – that of Global Citizenship.  And that cannot be done without being able to communicate with a larger percentage of the world's population.¨
Around the world, over 43 countries are French-speaking. Contrary to popular belief, there are more French than Spanish-speaking countries. 
"I started French last year and have learned so much about the language and the culture," SHF member, Abigail Mulhall.
As a student, it is important to learn a foreign language. Many colleges are looking for people who can speak a different language, but they aren't looking for beginners. 
Learning a new language is not just good for college, it is essential for the work field. The U.S. falls behind due to its inability to provide multilingual employees, who can work with international businesses.
 The world is a big place, and becoming more integrated in terms of international business and industry. And it is important to have foreign language and culture advocates such as Therrien.
"I have always felt that Mme. Therrien knows exactly what I need to be successful in her class," said SHF secretary Jonathan Rossignol. 
 Providing a meaningful global learning opportunity for her students, Mme. Therrien is an inspiration for all. 
Congratulations to all members and new inductees.
Leave a Comment
About the Contributor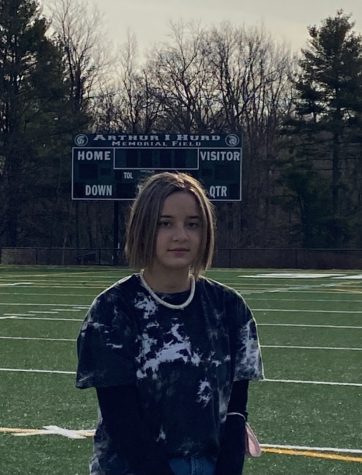 Emma Sherman, Journalist
Emma Sherman is currently a sophomore at Oakmont. She is a member of the Oakmont Marching Spartans, where she plays marching tenor drums. In her free time,...