Window Pains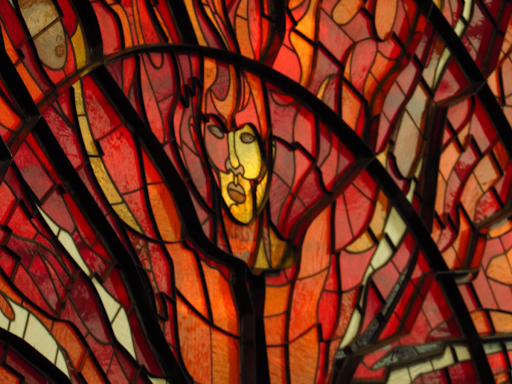 Window Pains
By Branden Hoegen
The window… that window. Stained glass, oranges and reds that bled together to form a fiery portrait of doom. Hell, that was what the window was titled. Artwork, displaying the suffering of a thousand souls. The type of window that you'd only otherwise find in a church, portraying a saint or some other heavenly figure. Here it was, a stained glass window, staining the bar in a blaze of warm color. It was unlike any other window he had seen. Demonic figureheads, the devil himself, sitting on a throne of obsidian. It fit the bar well, he thought. Home of lost souls, the doomed ones, the type who come to a place like this to escape the virtues of this world in search of a sinister escape. 
His throat burned with the aftertaste of thick whiskey. Sitting on a ripped faux leather bar stool, staring into hell itself. Hell was not scary to him, it had never been. Raised catholic, lived atheist. If God existed, how did he let him come to a place like this? How did he allow a place like this to stand on his good earth in the first place? The window answered his question. Despite its apparent display of agony, the piece of glass was remarkably clean. No cracks, no smudges, the exact opposite of its home. Inches away from the window, three bullet holes scarred the faded paint of the wall. Yet the window remained untouched. Had they replaced it? Could such a horrific presentation even be replaced without the concern of its crafter? Who had created the window in the first place? He stared into the empty glass as it was refilled with liquid death. 
The bartender appeared far from an upstanding citizen. What even is an upstanding citizen? Someone who does what they are told and doesn't question it. His cold eyes watched as his drink, his escape, settled. Another sip, another moment he would regret the following morning. He had come here to forget, to dream that it would all be better. The car crash, the screaming, the accident. 
They had been driving, late at night, singing along to the radio. She was beautiful, as she always was, and he would never forget her smile. No drink could make him forget that smile. The way her perfectly imperfect teeth had shimmered in the moonlight. The way her brown eyes sparkled in the street lamps. The way the glass shards dripped with blood. They had hit a telephone pole, driving too fast, drinking too much. He had promised himself never to drink again. Yet here he was, sitting on a ripped faux leather barstool, staring into hell itself. Was that where she had been sent? Was she now one of the souls begging for a second chance? He could never know. All he knew was regret. He took another sip and swallowed it as he stared at the window. His throat burned with the aftertaste of thick whiskey.
Leave a Comment