Uminski retiring after 35 years
The Oakmonitor staff, present and past, and adviser Mark Nevard, would like to congratulate Mr. U on a fruitful, storied career. His sincere, welcoming, and honest support for our student journalists and our publication has been so important and appreciated. His accessibility, excitement, and transparency while discussing Oakmont's ideas and issues has been marked by his always open door. Thank you and congratulations. Go well!
Starting in a temporary teaching position and moving his way up to principal, Mr. Uminski's career at Oakmont is coming to an end. The time and effort he has poured into our school have been evident through the tremendous impact he has made. Students and teachers alike wish Mr. Uminski well as he moves onto retirement.
Mr. Umimski grew up in Holbrooke, MA, twenty miles south of Boston. Attending Holbrook High School, he became a member of the hockey team and vice president of the student council. Graduating as part of the Class of 1981, Mr. Uminski still has a few close friends from high school. Reflecting on his time at Holbrook High, he stated, "…I really liked high school, which is probably what drew me into teaching." 
Moving onto colleges, he received a degree in secondary education in history,  and then, subsequently, a masters in history education from Fitchburg State. He also received another masters from Endicott through their LLP program.
Uminski started his teaching career right here at Oakmont. In the spring of 1986, he student-taught under former history teacher Bob McGowan. The following summer, former history teacher, Bill Wyman became the vice-principal, leaving a job open for a new history teacher. Mr. Uminski applied for the job and his interview with principal Blair Arsenault consisted of one question, "Do you want the job?"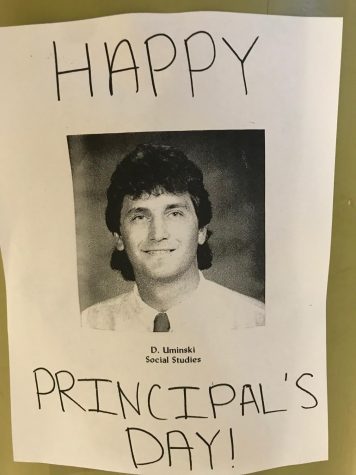 In the fall of 1986, he started at Oakmont at what was supposed to be a temporary fill-in teacher position but became his livelihood for the next 35 years. Before being promoted to principal, Mr. Uminski taught history and coached. He looked back at some of his favorite classes to teach including Western Civilizations, World Cultures, but most importantly, Humanities. Humanities, no longer offered here at Oakmont, was a freshman honors course combining literature with world history. The class was co-taught with English teacher Mr. Buckler and then with Dr. Erikson after Buckler retired.
Before Uminski took his seat in the principal's office, he was standing on the sidelines coaching field hockey, baseball, and was Oakmont's first-ever varsity hockey coach. He was even able to take our hockey team all the way to the state finals, but what he appreciated most about coaching was being able to watch his athletes grow and develop. 
Since 2007, Mr. Uminski has been leading our school as principal. In this position, he enjoys being able to create greater, broader impacts and leading such a supportive community of students and faculty. Uminski takes great pride in surrounding himself with good people, commenting, "My favorite part for the job is being given credit for the great things students and teachers do." 
Reminiscing on his years at Oakmont, Uminski recalled some of his favorite memories –  including two that brought tears to his eyes. One is the musical theatre shows, specifically, Les Miserables in 2012, and  Peter Pan in 2018. Secondly, Uminski has enjoyed the talent and spirit of the Oakmont annual Christmas Concert performance each December. Athletically, his favorite moment was watching the 2010 boys' hockey team win the state championship, coached by current Oakmont senior Kinsale Carney's father, Ryan Carney.
Outside of Oakmont, Uminski continued to work hard for students and teachers alike. Believing extracurriculars such as athletics are an important part of the high school experience, he has been active on the MIAA to help student-athletes across the state. He became the MAIC governing body, served on the MIAA field hockey, ice hockey, and unified boards, and was the chairman of the Central Mass Hockey Committee. 
Besides athletics, he has also been working to help benefit teachers statewide. He's been a leader in the Teacher's Union assisting teachers in gaining rights and benefits, co-chaired the NEASC Evaluation Committee in 2004, and led the Midland Wachusett Principal's League for the last 8 years.
After the last 35 years, Mr. Uminski has racked up some recognition for all the hard work he has done. His last year of teaching his fellow colleagues awarded him with the Excellence in Education award in 2005. In 2015, students awarded him the Mass Association of Student Council Administrator of the Year award. As a coach, he was recognized as 1993 Central Mass Coach of the Year for ice hockey by the Sentinel and Enterprise newspaper. Recently, the Mass. Athletic Directors Association has awarded Uminski with The NIAAA Distinguished Service Award- Outside the Field of Athletics award for his commitment to interscholastic athletics in Massachusetts. Lastly, he is very proud of our school and has immense pride for the teachers and athletes who helped unified athletics program succeed and is honored our school was named a Unified Champion last year.
First-year AWRSD Superintendent Todd Stewart said, "I have really appreciated how he has been willing to mentor and support some of our newer administrators in the district (and me)."
Both students and teachers have shared one of Uminski's biggest assets to Oakmont as being able to create a sense of community within the school. Mr. Stiles, a former student and now colleague of Mr. Uminski stated, "He wants people to feel a sense of belonging and is always willing to listen to anyone who might have a suggestion or an idea to help students and staff."
Uminski's also noted for being devoted to his students. President of Student Council Lindsay Romano mentions, "Even when I did not hold a position of leadership on the council, I knew Mr. U was always an email away if we had a new idea to present. He is genuinely interested in what we are doing, and how the administration can provide support."
If Mr. Uminski could leave one thing with students it would be his famous quote, "You get out of Oakmont what you put into it." When asked if he believes he got out of Oakmont what he put into it he says, "I really have tried to be student-centered. Students are the first consideration for everything we do. I have thoroughly enjoyed attending after-school and evening events — Evening With the Arts, concerts, athletics, Interclass, musicals, Mr. Oakmont. That being said, Oakmont has given me MORE than I have put in. I am grateful for every student, teacher, and staff person that I have worked with over the past 35 years."
Leave a Comment
About the Contributor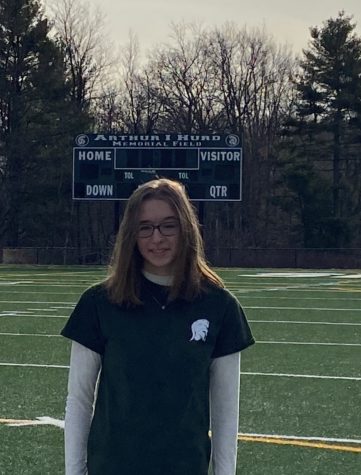 Kaela Hillman, Journalist
Kaela Hillman is currently a senior at Oakmont. She cheers for our varsity cheer team along with participating in All-star Cheerleading. Outside of writing,...