Fall is in the air
Fall has arrived. If you don't do much during the fall or do not know what to do then this is the article for you, so get your body off the couch and have some fun this fall.
Every season has its trademark dishes and baking is something that many people in the states love to do, which is baking. If you want that satisfaction and scrumptious reward of baking a pie, then maybe you should try baking. In today's day and age there is a wide variety of recipes you can find very easily on the internet. 
If you are looking for a quick and easy dessert to make then apple crumbles are great. They are the perfect mixture of sweetness and tartness. They can usually be made in around 30-50 minutes with baking and prep time included;  after all that, you got an underrated, delicious dessert. Who knows? Maybe you can even share your recipes and/or give some of your treats to your family and friends this fall. 
If you're not a real 'foodie', maybe you're up for some thrills. There are some corn mazes and spooky haunted houses scattered around New England! Corn mazes are challenging, life-sized puzzles to solve with your family or friends. Haunted attractions are an amazing pick if you are into the horror genre and want to experience the thrills in real life. The top rated frightening attraction according to Google Reviews around here is 'Fright Kingdom'. It is located in Nashua, New Hampshire. The only opening day right now is Sunday, 'Fright Kingdom' opens at 7pm and closes at 10pm. Other popular attractions are Freights Fest and Witch's Woods.
A personal favorite activity of mine is going to an orchard with my family and going to pick apples, or strolling through a pumpkin patch and helping your family pick a few out to carve or just for decoration! A good place to go to if you are interested in orchard activities is Red Apple Farm in Phillipston Massachusetts. It has apple orchards, pumpkin patches, hiking trails, food, and homemade treats including apple cider, apple cider doughnuts, apple soda, just everything apple and even maple items. 
Going to the local farmers market if you like that homemade feel of items and edibles is a great fall activity you can do with family! You can get many items which are not limited to, but includes treats, home comforts such as blankets and art related goods, and candle scents to spark that fall vibe in your house. While you rake the leaves this fall, think about going on one of these fun filled fall trips!
Leave a Comment
About the Contributor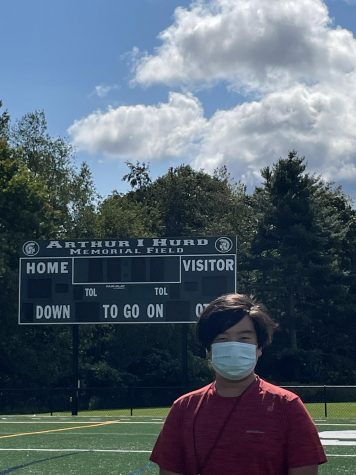 Samuel Kaehlert, Reporter
Samuel Kaehlert is part of the Class of 2024 at Oakmont Regional Highschool. He is starting off a new year with the Journalism class and is very excited...