OPINION: Devious Licks – Is Tiktok too influential?
Devious Licks: Is Tiktok too influential? 
By Carlie Lombardi
Tiktok is the most popular social media app out there right now. There are hundreds of new trends being set and different products that sell out everyday because of Tiktok's influence. A person's video post can become viral instantly, creating millions of impressions – some unexpected, some expected.
Tiktok can spread great positivity, but also an incredible amount of negativity. This specific negativity has affected students nation-wide and here at Oakmont Regional High School. 
"Devious Licks" is the name of the trend that gained its momentum from Tiktok. This trend started on September 1, 2021 and in two short weeks it already made an appearance at Oakmont. An user named 'Jugg4elias' posted the first video that has started this vandalism rampage. They filmed themselves taking a box of disposable masks with the caption, "A month into school…Devious lick." 
It seems to be a selective group of students who have been taking soap dispensers, paper towels, toilet paper holders and anything else you can think of that is accessible in Oakmont's restrooms. 
About a week after the continuous devious actions, Principal Lizotte made an announcement on OTV. He talked about what students should do if they see any vandalism taking place and what your punishment consists of if you are joining in on the mischief. However, this is not harmless mischief; Instead, Lizotte made it clear that this is a serious matter that could involve both in school and out of school consequences, including replacement fines and even legal ramifications. If you do see a peer participating, immediately let an administrator know what happened and what damage has been done. 
An Oakmont senior, Kennedy Alexis, shared, "Tiktok is insanely influential and not in a good way." She elaborates, "When I saw the first 'devious lick' video, the next day there was a missing soap dispenser in the girls' bathroom." 
Who are we to blame for the vandalism that takes place at Oakmont? Of course, the students who decide to participate, but is there a deeper culprit? With Tiktok being insanely influential and toxic, should teenagers continue to use the app? 
With the repeated offenses, it could certainly be described as a form of 'copycat culture'. Psychologists at the Jawaharlal Institute of Postgraduate Medical Education and Research believe that "Social media applications serve as ideal social arenas for individuals who are attracted to engaging in ego-enhancing activities." 
Tiktok's target audience is teenagers and young adults, those who are willing to participate in reckless activities. Sixty percent of Tiktokers are between the ages of 16-24 years old.
It seems that Tiktok is trying their best to end this vandalising trend; recently, while searching the term "Devious Licks" on the app, an important message pops up instead of the countless amount of videos that are supposed to be under the hashtag. The message says "No results found", and then it states "This phrase may be associated with behavior or content that violates our guidelines." 
Oakmont made the decision to block Tiktok from the school's wifi sometime last year. This instantly made many students upset and frustrated. Tiktok has a hold on Gen Z, teenagers spend an average of 95 minutes on the app per day. This is a lot of information and consumption that high schoolers are taking in. 
Seeing that Tiktok is not going to go anywhere anytime soon, the best thing we can do is spread awareness on managing our screen time and what media we are consuming – especially if it's devious.
Leave a Comment
About the Contributor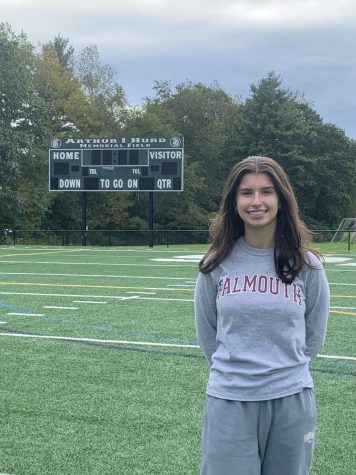 Carlie Lombardi, Reporter
Carlie Lombardi is a part of the class of 2022, a senior at Oakmont Regional High School. She is a part of SADD and yearbook. After school Carlie work...