AP Courses and content in 'the block'
Tackling any course in one semester can feel extremely daunting, whether it's at a college prep or honors level, but effectively completing an advanced placement course in 90 days poses quite a challenge. 
Advanced placement classes, or AP classes, run differently than a traditional honors class. For starters, the AP college board certified curriculum is more challenging and time consuming. Advanced placement students also have the ability to earn college credit by passing the AP standardized tests given in May. 
AP classes allow high school students to experience a class similar to a college course. The content is often taught through lots of reading and independent work. Students taking courses at this level are expected to complete assignments, not only because they are being graded, but also because it helps them understand the material better. 
Mrs. Beth Campagna, the AP Spanish teacher at Oakmont Regional High School, believes that, "Doing well on the exam requires a lot of self-discipline outside of the course. Students should try and seek language practice outside of class as much as possible and have a growth mindset." 
Advanced placement Spanish runs spring semester, directly after Spanish 4 in the fall. Since Spanish 4 and AP Spanish each have a different curriculum, AP Spanish students only have twelve weeks of the spring semester instruction before the exam in May. 
Oakmont offers nine different AP classes: AP U.S. History, AP World History, AP Spanish, AP Computer Science Principles, AP Art and Design, AP Probability and Statistics, AP Calculus AB, AP Language and Composition, AP Literature and Composition, AP Environmental Science, and AP Chemistry. Not every AP course runs every year. 
AP course schedules may take different forms within our current 4×4 Semester Block Schedule:  they may run everyday for only the first semester, everyday for the first semester and every other day for the second semester, or run only second semester with a required course during the first semester. 
Mrs. Stacie Brown, a science teacher at ORHS, has been teaching AP Chemistry for fifteen years. She appreciates the way that AP students are willing to learn, and the fearlessness they demonstrate when tackling difficult tasks. 
AP Chemistry students take Chemistry and Physics Honors first semester, and then they transition to AP Chemistry for the second semester. Since AP Chemistry students are receiving instruction all year long, Mrs. Brown feels as though there is enough time to complete the curriculum. 
She also spoke about the biggest challenge of teaching AP Chemistry, "Some years, weather is the biggest challenge. The AP test schedule is set and if we miss a lot of days due to inclement weather. That is less time to perform labs and work on practice tests."
According to AASA, The School Superintendents Association, a Canadian study concluded that the AP testing timetable favored students in year-long classes over students who were only given one semester to complete the curriculum. 
Students who took the AP course fall semester have nearly a full semester between the last day of their AP course and the AP exam. The study also concluded that spring semester students missed two days of instruction for every one day missed by full-year students. 
Ms. Erin Bergin, a history teacher at Oakmont Regional High School, has been working prudently to navigate her classes through AP and the block schedule. This year is her first year teaching AP U.S. History. Ms. Bergin enjoys teaching AP because the topics are taught much more in depth than other courses. 
AP U.S. History is one of the few AP classes that runs for only one semester. Students are expected to learn historical content plus a whole new writing style in 90 days. "The whole idea that I only have one semester with my AP students and that we have to cram everything in – all in 19 weeks is kind of scary," said Bergin. 
Although the thought of preparing students for a difficult exam in only one semester can be intimidating; Bergin likes that the block schedule allows her to teach longer, more in depth lessons to her students every class period. 
Ani Seppelin, a junior at ORHS, believes that, "AP classes are very hard and they take up a lot of my free time. I just wish I had more time to practice test material with my teachers and classmates." 
According to unlockingtime.org the 4×4 block schedule, has its advantages too. Teachers only teach three classes a semester and are able to have a longer preparation period. The 4×4 block schedule also allows students to take more classes, especially electives and internships. 
The biggest question regarding AP and the 4×4 block schedule is, does a student who has all year to complete the course have an advantage over a student who only has one semester to complete the course?
Ms. Bergin and Mrs. Campagna, both believe that their students would benefit from having a year long class. Ms. Bergin mentions that there is quite an advantage to having the content fresh in a student's mind when they take the AP test. 
When both teachers and students alike are voicing their concerns with AP classes and the current 4×4 block schedule, is it time to take a deeper look at what a new schedule may entail? 
Leave a Comment
About the Contributor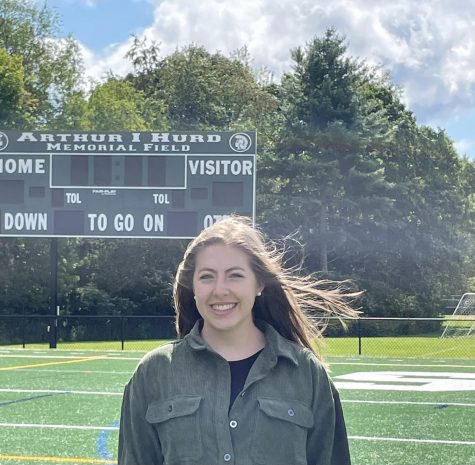 Delaney Taylor, Editor In-Chief
Delaney Taylor is currently a senior here at ORHS, as she is a member of the Class of 2023. Delaney has served as the editor of The Oakmonitor for the...