David Ortiz: From a Kid
David Ortiz: From a kid 
By Ben Forbes
October 13, 2013. Fenway Park, Boston. ALCS game 2. 
Dave O'Brien "Redsox trail it 5 to 1 and Papi gets in. The big right-hander, Benoit delivers. Swing and high deep drive into right field that one scolded to right, Hunter on the move raising back it's over his head! It's gone! It's into the bullpen! This game is tied! This game is tied! David Ortiz! David Ortiz! David Ortiz!"
An instant classic. The most famous and arguably the most clutch moment sports have seen. Many remember David Ortiz's time in Boston as one of fun, excitement, and winning. But growing up with David Ortiz as the symbol of your city and favorite team is different.
Imagine every single time you step on the field to play, every time you step in the box, you wanted to do what he did. David Ortiz was one of the biggest reasons I fell in love with Baseball. I played through him. Back when baseball was nothing but daddy hacks and webcams. A time when mechanics meant nothing. I would go up to the plate, spit in my batting gloves, get in that big stance just as he did and hack away.
Lately, I have been seeing baseball more as a chore. A constant battle of improvement and discouragement. But I have learned to take a step back and remember the little kid watching the 2013 season. Watching my city in a state of horror. And who did they turn to? David Ortiz. From his epic speech on patriots day to his World Series MVP. He will forever be a symbol I will have labeled in my brain. 
David Ortiz was a very unique hitter. There are not many people who can hit .300 and hit 550 home runs. In the 2013 World Series, he hit for an incredible .688. He was intentionally walked 3 times in game 6 and was pitched around him a 4th time for 4 walks. That is the fear he brought to the plate and on the field. But isn't that what a hero does? Brings fear to some and immense hope to others? 
For all of David Ortiz's career, I saw him lift Boston up,  put it on his back, and carry them to victory. His first call to duty was in 2004. Red Sox were down 3-0 in the ALCS against the most embarrassing, cheater-filled, Hollow shell of a franchise the MLB will ever see. The New York Yankees. In game 4, the Red Sox simply had to stay alive. So Ortiz hit a walk-off homerun. The next night Ortiz gets an RBI single to walk it off. And the rest is history as they came back to win the Series. That is undoubtedly the greatest moment in Red Sox history.
Ortiz will always be remembered as the great person he was on and off the field. And to me, I will always remember him as the first reason that I will always keep loving the greatest game ever. Baseball.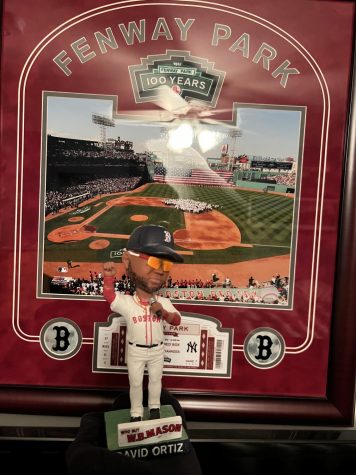 Leave a Comment