Indoor Track: Season in Review
Closing another amazing indoor track season for Oakmont. The team made it to the Division 5 state championships with some great performances from the student-athletes. Some great accomplishments like the Girls' 4x200m Relay with Madi O'Brien, Dani Amoah, Maisie Rourke, and Isabella Comeau. As well as boys 4x800m Relay: Russell Hertel, Kam Law, Henry Telicki, and Seth Loudon. Senior Fiona Picone qualified in the 1 Mile and 2 Mile. 
Head coach Mr.Dufour was asked what he felt the team's identity was for the season and he stated "Indoor Tracks' identity is really about being a running family.  One thing that's cool about Indoor Track is that when you go to a meet, everyone is cheering for everyone, regardless of which team you are on.  Track kids cheer for track kids.  Indoor Track athletes make friends with other teams at meets and on the track.  They all support each other.  We have this funny relationship with Quabbin, where when we go against them we don't say it's Oakmont vs. Quabbin, we just call it the Quabmont meet.  At the larger meets, everyone cheers for success, not a name on a shirt.  We support each other, like a family." The support on the team gave energy and a boost of confidence for everyone.
Coach Dufour talks about the season: "I feel the season went very well, considering the team's obstacles.  We were faced with wearing masks while running, low numbers, and having not run last year.  But, our team faced the challenges head on.  Of the 12 girls on the team, 6 of them were in 8th grade, and two of the 8th graders made it to the State Championship in the 4x200m relay team!  The boys had better numbers, and many of them were part of a core group of juniors who helped get the team to where it needed to be. It's one thing that is amazing about track and field.  No matter how small your team is, you always have the chance to compete at the state level. We may have only won ONE meet in the league season between both teams, but we competed and competed well.  That's all that really matters."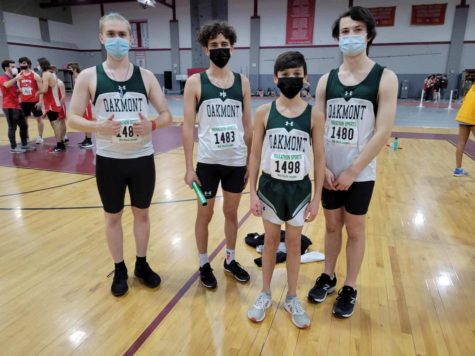 Congratulations to our amazing Oakmont indoor track team on a great season!
Leave a Comment
About the Writer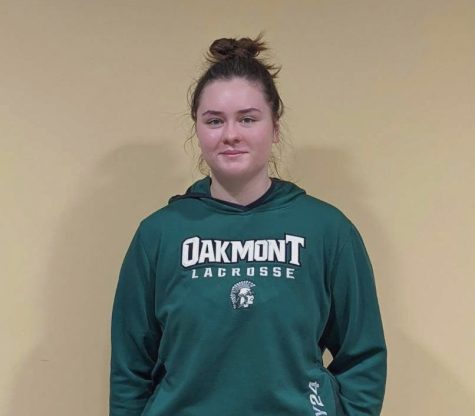 Nola Patty, Photographer
Nola Patty is a part of the Class of 2024 at Oakmont Regional High School. This is her first year being a part of the Oakmonitor as a photographer. She...