Vex Competition Just one Part of Oakmont's Tech Education Program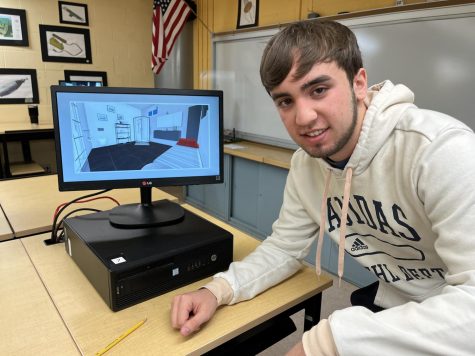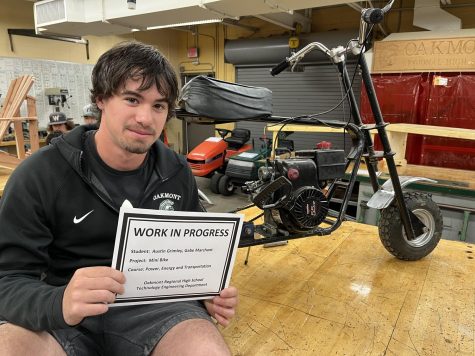 Oakmont is one of the 11,000 high schools in the United States that offer technical engineering programs. Not just one or two programs either. Oakmont students are offered 12 programs within the school. Those programs include, Wood Technology, Materials and construction, Communications Technology, Media Production, Design Technology, Engineering Design, Architectural and Interior Design, Advanced Engineering and Robotics, Power Energy & Fabrication Technology, Power Energy & Transportation Tech, Video Game Design, and lastly Applied Physics/ Principles of Technology. There's a class of interest for almost everyone.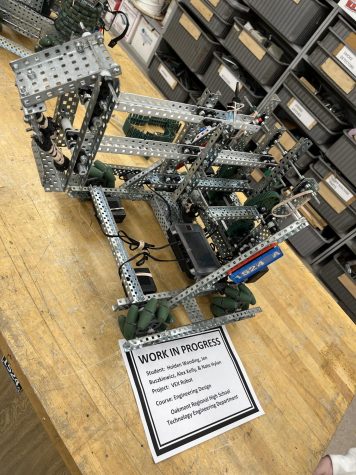 Are you interested in any of these programs? Here's a description of a few of Oakmont students' favorite classes.
Wood Technology:
Wood Technology emphasizes a combination of introductory and advanced machine operations for furniture construction and cabinetmaking. Current industry standards are introduced. Students conceptualize solutions to various problems, then design and build a final product.
Design Technology:
Design technology, or D.T., is the study, design, development, application, implementation, support and management of computer and non-computer-based technologies for the express purpose of communicating product design intent and constructability.
Engineering Design:
Engineering design is the method that engineers use to identify and solve problems. It has been described and mapped out in many ways, but all descriptions include some common attributes: Engineering design is a process. This powerful approach to problem-solving is flexible enough to work in almost any situation.
Video Game Design:
Video game designers develop user-friendly games for computers, mobile devices, and websites by brainstorming game details, building code, and testing products for efficiency. These individuals may create plots for games and organize ideas on flowcharts.
These few classes are typically the starting point programs before you can move on to the harder/more intricate programs. For example you have to take Power, Energy Fabrication before you can take Power, Energy Transportation Tech, which is a class where you can engineer/make your own mini automobiles and towards the end of the year drive them yourselves.
We asked some of our Oakmont Tech Ed students and staff the same two questions. If they like the tech education programs and why. This is what some of them had to say.
Mr. Secino: 
"I absolutely love teaching tech, engineering classes. I would absolutely recommend other schools to add this type of program to their school. The question is why? I would recommend it for many reasons. One is, that it's a different type of class setup. We do project-based learning here. So you're not sitting in your seat the whole time listening to a teacher lecture at you. You are actually up and moving and applying the skills you learn to all your projects". He also explains "This is where math, science and all your other classes actually get applied to the world, and you see all those random concepts that they teach you in all those other classes that seem like they don't apply to anything in the outside world when really you apply those other skills in these programs". He explains that many kids in his experience always express how they never knew that those skills we learn in our core classes are actually applied in the tech ed programs and the real world. "It's also just fun" he expresses.
Student 1:
"I like tech ed classes because it's a good way to break up my day and it's something fun to do"
 Student 2:
"I don't really like tech ed classes because I don't like measuring things and having to have everything be exact. But I understand and would recommend other public schools to put these programs in their school because it's good for certain people who like working hands-on and like having a break in their day.
Student 3:
"I like this class. It's fun"
For the most part, we received very positive feedback from the students and teachers. If you have not taken a tech ed class yet I and some other students would 100% recommend it. It's a nice break in your day to escape the regular core classes and to do some hands-on learning while also learning tons of new skills. These programs are a huge part of Oakmont and we are so lucky to have them available to us. The connections made between the staff and students, the connection students have with each other, and the passion the students have to come into class everyday to weld, build, program, and design is so special and just a really fun experience.
Leave a Comment