Ed Kressy returns to share message with Oakmont's prom-goers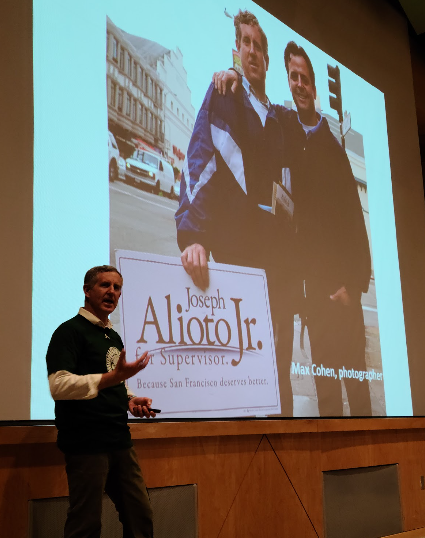 Piecing his life back together: Once an addict, now a speaker changing lives.
When he was only 14 years old, Oakmont student Peter "Ed" Kressy resorted to alcohol as a means to fit in. Decades later, he returned to deliver a speech against it.
On May 12, 2022, Kressy came to Oakmont to talk to prom-goers about the importance of their choices moving forward. Having been a substance addict for decades, the now sober writer and speaker is turning his own experiences into something meaningful.
Seniors and juniors alike attended the in-school event, which took place in the school's auditorium. After his speech, Kressy answered numerous questions from the audience.
He was hosted through Oakmont's club SADD, also known as Students Against Destructive Decisions. Advised by Oakmont English teacher Timothy Caouette, this club volunteers within the community to help encourage others to make safe choices.
To explain SADD's mission, Sophia O'Brien, a member in her senior year, said "You're trying to be a good role model. In high school, you're growing into an adult and you want to develop healthy habits, so SADD tries to spread this message through activities. For example, we held an event where we gave lollipops to students who wore seatbelts."
Caouette added, "We want to be visible and be a noticeable presence as a reminder that we at Oakmont can make good choices and make good decisions."
Prom is one of SADD's major focuses during the school year. The organization's goal centering around this event, according to Caouette, was for everyone to have a safe and enjoyable time- to "have a night to remember, but to remember it is only one night."  Kressy's speech was an important part of this. 
Emma Dunn, a senior from SADD's leadership board, said, "By having Ed Kressy share his story, the hope is that students will be inspired and want to make smart decisions by avoiding unsafe substances." O'Brien added, "I'm hoping kids will have a 'whoa' moment!"
Caouette also spoke about how he and Kressy first came into contact. When Kressy returned to the area several years ago, he emailed Caouette about sharing his experiences at Oakmont in the hopes of making a positive difference. Caouette was fortunate to keep this connection and give him and the current Oakmont students this unique opportunity.
Indeed, Kressy's speech was impactful. It detailed his journey from the moment he first sipped alcohol to the moment he decided to quit the use of methylphenidate, a highly addictive and dangerous drug. His story marked the effects of such substances- experiencing psychosis and paranoia (even believing his friend was connected to the disasters of 9/11), hurting his friends, family, and beloved dog, missing fantastic opportunities in his career, and more.
He was days away from being homeless on the streets. All he owned at this dark time were three items of clothing: a filthy black baseball jacket, slacks, and converse shoes held together by duct tape. Those, along with a tuxedo. 
On October 19th, 2007, Ed Kressy, decked in this nighttime attire, walked into a hotel ballroom where a wedding reception was taking place. He stood at the door's threshold, thinking he would crash, maybe be mistaken for a guest. In his speech, he said, "October 19th, 2007, in this hotel ballroom, something occurred to me… in the previous years, there had been five weddings. Ten of my closest friends had gotten married- one couple asked me to be their best man."
Out of those five weddings, Kressy had attended zero; not one. He continued, "On this night… on some level, it had hit me not only how much I had hurt myself with my poor choices leading to addiction, but how much I had hurt others, too." He never used meth again.
Three main factors helped Kressy on his road to recovery: spirituality, self-improvement, and service to others. In addition, the support of friends, mentors, and law enforcement officers allowed him to avoid relapsing. His evolution proves that one can bounce back from any mistake and make society a better place.
By bravely sharing his story, Kressy helped to discourage Oakmont's prom-goers from making similarly poor decisions on their big night, and also to inspire students to bring value to the world: whether that's at Oakmont, in San Francisco, or across national borders.
Certainly, students and adults alike were positively impacted. One faculty member and several students felt that Kressy gave one of the most influential speeches that Oakmont has ever hosted.
One member in the audience, a junior, said that hearing Ed Kressy's speech inspired him to be more aware of the safety of the people closest to him. Meanwhile, a senior said, "I appreciated that he was honest and straightforward… It was very worthwhile."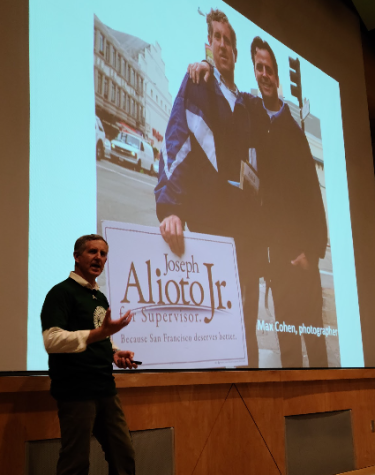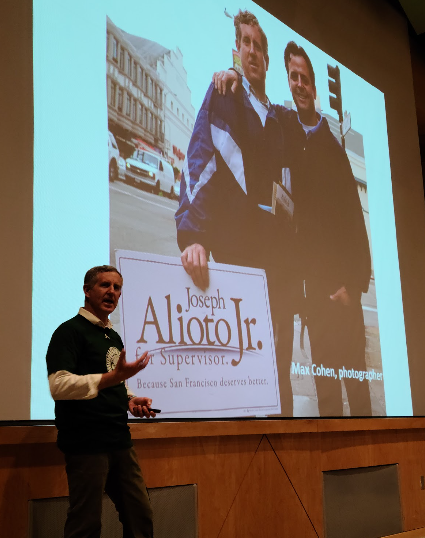 Likewise, Caouette explained that Kressy's background at Oakmont made the speech more relatable to students, and thus more impactful. "He was in this building," he said. He made some of the same mistakes that students at Oakmont have or will, but still inspired the audience by turning his experiences into a vital life lesson. Overall, the speech was a huge success.
SADD had several other preparations for prom: videos, simulations, and even a post-accident vehicle in the school parking lot were all shown to demonstrate how substances can affect your body and your life, according to Emma Dunn. By far, however, Kressy's speech was the most meaningful. Just as he had hoped, he made a positive difference within the school in which he grew up.
When asked what was the most important thing to take away from his speech, Kressy said, "Life is a jigsaw puzzle. Every experience in your life is assembled together at the end." His words tied in with his presentation on the 12th, which showed Kressy's life being pieced back together through pictures. "But they're all important and I hope that my speech is one piece for other people to put in their pockets.
Kressy's speech may have only been one piece of Oakmont Regional High School's puzzle, but it surely was an inspirational one that touched countless listeners. It helped to remind teenagers of the value of their choices and changed the way students looked at Prom Night. His speech taught that, in the words of Caouette; "If given the chance or opportunity, you can always atone for mistakes."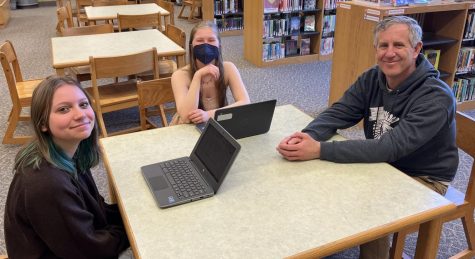 *As an end note we, as journalists of The Oakmonitor staff, would like to recognize our appreciation of Ed Kressy for reaching out and sharing not only his resilient story, but his journalism experiences that helped us shape this article and our craft.
Leave a Comment