Oakmont students and staff show their appreciation for Mr. Nevard
As the 2021-2022 school year comes to an end, Mr. Nevard's students and The Oakmonitor staff want to thank him for all he has done this school year. Mr. Nevard has put in a tremendous amount of effort into helping The Oakmonitor staff, and his students thrive, both academically and personally. He is the reason why The Oakmonitor has grown incredibly over this past school year. We cannot thank him enough for all he does but, here are some quotes to show our gratitude: 
"Mr. Nevard has been an unwavering mentor and friend in my first year here at Oakmont. I know that I can always count on him for a phone call to talk about the day. I can count on him for expert advice. He pushes me to be a better educator and enhance my lessons. He is an expert in his craft. Mr. Nevard, I can't extend my thanks enough — thank you for welcoming me to the Oakmont community and pushing me to be the best educator I can be."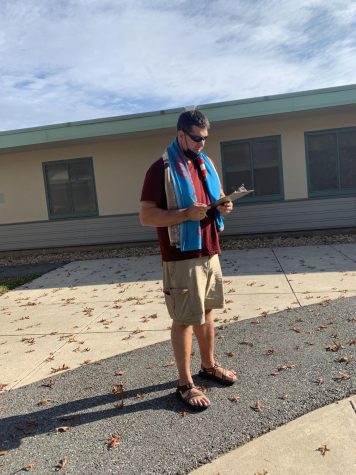 – Ms. Erin Bergin
"Mark Nevard is one of the strongest teachers we have at Oakmont, both academically and as a colleague. Mark was the best mentor who always supports those he works with and makes sure that we all feel comfortable and understand our role. He is level headed and always provides the best advice and encouragement. Further, his sense of humor helps make each day enjoyable. Mark's students feel the same way and always have nothing but positives to say about him. His intelligence for his subject is notable, but his relationships with his students are even more important. Students go to him for their problems, to vent or just to chat throughout the school day. He has been a role model for many of my students and a support system for them. He is truly an admirable teacher and person."
– Ms. Katelyn Becotte
"I first met Mr. Nevard my freshman year, when I took my first Journalism course. Prior to Mr. Nevard's Journalism class, I'd never really written anything other than traditional English essays. Immediately, I fell in love with not only writing articles, but also being in Mr. Nevard's class. I loved it so much that I came back again, and again. After completing two Journalism classes and one independent study under Mr. Nevard, I can say that he is for sure one of the best teachers I have ever had. He is so passionate about including and helping every student, which makes him an amazing teacher and advisor for The Oakmonitor. I thank him so much for teaching me everything I know about journalism, and most of the things I know about grammar. I am so grateful to Mr. Nevard for always supporting me in every way he could. Mr. Nevard is truly an amazing teacher, that strives to change the lives for students for the better, both in and out of the classroom!"
– Delaney Taylor
"It was fun being in his class. All the lessons we did were interesting and engaging."
– Jaylen Kirkland 
"I have had the pleasure of being a student of Mr. Nevard for the last couple of months. He makes learning fun. His witty comments and funny dad jokes make even the most boring grammar lessons enjoyable. He even goes along with the nicknames that students give to each other in class. The kind hearted man is always looking out for his students and makes an effort to keep up with what is going on in their lives outside of the classroom as well. I want to thank him for making school such a positive experience."
– Nola Patty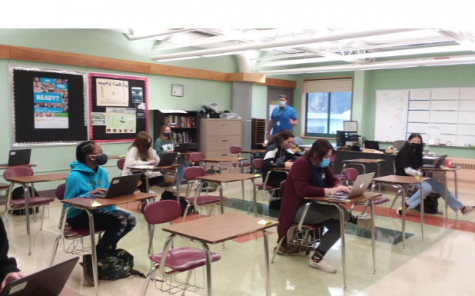 "Thank you Mr. Nevard for all of your help with the Oakmonitor! You've been supportive of all my ideas these past couple of years, and I've really enjoyed being able to publish my own work. I hope to write more next year!
– Henry Telicki 
"Thanks Mr. Nevard for being a great teacher and always pushing me to do my best."
– Gianna Caforio 
"I feel incredibly lucky to know Mr. Nevard. As a teacher and as a friend, he has always been extremely supportive. No matter the student, he unfailingly acknowledges, encourages, and jokes around with them. I appreciate Mr. Nevard because he selflessly believes that me and everyone else can succeed. When I'm around him, I feel cared for and full of creative potential- that's the type of energy he has! Moreover, Mr. Nevard is super passionate about his job, showing up to school everyday with a smile and another brilliant idea. Oakmont and The Oakmonitor are awesome because of him. Thank you, Mr. Nevard!
– Dani Lewis 
"Mr. Nevard is one of those teachers that students never forget. His awesome energy and attitude makes learning topics like grammar, which we can agree usually isn't the most fascinating thing, into something that all students enjoy. He always supports his students and encourages them to do the best work that they can possibly do, whether it's teaching classes such as English, sports literature, journalism, or creative writing."
– Catherine Telicki
"I took Journalism as a freshman hoping to have some fun and improve my writing skills, but I never expected to get what I got out of it. I remember in class when we were about to write our first article, I was shocked that I could write about whatever I wanted. I had so much freedom, and fell in love with writing. If it wasn't for Mr. Nevard, I would've never found this passion, and I also would never have joined OTV, so I owe him a lot. He is truly a remarkable person and I am so happy to be a part of The Oakmonitor!"
– McKinley Chabot
Leave a Comment
About the Writer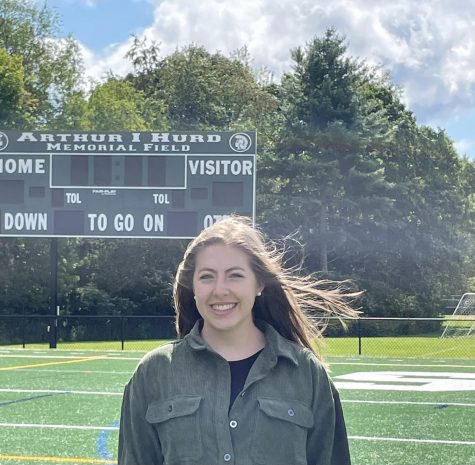 Delaney Taylor, Editor In-Chief
Delaney Taylor is currently a senior here at ORHS, as she is a member of the Class of 2023. Delaney has served as the editor of The Oakmonitor for the...