The Truth Behind Oakmont Parking
After completing an extremely boring driver's education course, driving around countless parking lots in your mom's minivan, and hopefully not failing your driver's test too many times, you finally have a license. 
Getting a driver's license may mean something different to every high schooler – starting a job, newfound freedom – the list goes on and on. For most high schoolers, who have a car, driving to school is one of the most exciting and convenient privileges of passing the dreaded license test. 
Before you can hop in your car and drive to school you need to apply and pay for a parking permit. Here at Oakmont Regional High School, students wishing to obtain a parking permit must fill out a Google Form application found on the school website. 
Within the application, students must upload photos of their license and registration, answer questions regarding their car make and model, and also agree to follow all of the rules and regulations for student drivers. 
Once you have completed the application, you must bring in your parking permit fee to the main office. The fee for parking in one of the three student parking lots here at ORHS, is $25.00 per semester or $50.00 per year. 
Recently, many Oakmont students have been questioning the reasoning behind the parking permit fees. "I don't mind paying the parking fee but I am just curious as to where my money is going," newly licensed junior, Avery Duteau comments.
Mrs. Katherine Miville, one of the two vice principals here at Oakmont Regional High School, has been working on ways to improve the parking situation for years now. She explained in detail where all the collected parking fees go. "The parking fees go to both short and long term issues." 
Some of the short term issues mentioned by Mrs. Miville were repainting numbers and lines on spots, purchasing parking passes for students and clearing snow out of parking spaces. "In order to clear snow banks off the parking spaces we must pay external companies to take care of it. In the past we used to just block off those spaces, which limited the number of junior spots available."
As for longer term issues, she revealed that last year the school began looking at areas they could potentially pave over in order to create more parking spaces. Any money left over from solving the short term issues goes to saving up enough money for a long term solution. 
At the beginning of the 2021-2022 school year, administration decided to assign seniors parking spaces right behind the school, while juniors where assigned parking spaces up the hill at Overlook Middle School. This decisions raised many questions from the junior class about why they got the less desirable parking spots. 
Allison Smith, one of the first juniors to be assigned a parking spot this year, wondered, "When I walk in and out of school I see a bunch of empty parking spots and wonder why they aren't filled?"
What many juniors may not know is that, prior to last year juniors were hardly ever given parking spaces on campus. Miville's comment added a thoughtful perspective. She said, "It's kind of funny, a lot of times students will call the furthest parking lot behind the school the junior parking lot, but in reality it's almost always been a senior parking lot." 
Seniors have always been given preferred parking spots, as sort of a "senior privilege". At the beginning of the school year, seniors are allowed to reserve a parking spot if they think they may get a car and or license during the course of the school year. Administrators choose to assign Overlook parking spots to juniors first, to ensure that seniors would be able to have the closest parking spots. So, some of the empty spots were reserved, and paid for, by seniors at the start of the year. 
There are other reasons why the parking lot may look so empty at the beginning and end of the school day. Lots of students participate in dual enrollment programs at local colleges, allowing them to leave ORHS in the middle of the day or come in late. Cafeteria staff are also given parking spaces, and since they come in later and leave earlier than students it can sometimes look like those spaces are left unused. 
Although the parking situation may be a little frustrating for student drivers, especially when it comes time to pay up, there is a reason for every decision made by administration. Moving forward, Mrs. Miville is extremely hopeful that in the future "anyone that wants to drive here can." So, the best may be yet to come. 
Leave a Comment
About the Writer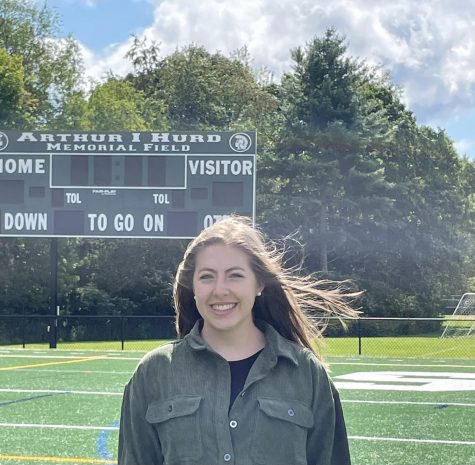 Delaney Taylor, Editor In-Chief
Delaney Taylor is currently a senior here at ORHS, as she is a member of the Class of 2023. Delaney has served as the editor of The Oakmonitor for the...