Teacher Spotlight: Ms. Martin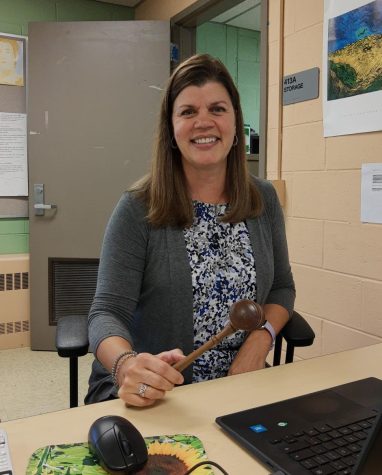 In Room 413, you can hear a teacher talking excitedly about women's rights or how a brain reacts to certain things. Maybe you were curious about who that voice belonged to and peered in the window. Once peering in, you see the teacher who is talking to the students who are hanging onto every word she is saying. The teacher is Ms. Martin and she is one of the few Oakmont teachers who has been in the district for over 20 years. So you're probably wondering, who is Ms. Martin and why am I even reading an article about her? Well, maybe learning more about her will entice you to sign up for one of her classes. 
Ms. Martin grew up in Pittsfield, MA, located in Western Massachusetts. Once graduated from Pittsfield High School, Ms. Martin went north to the University of Maine, then Orono for her undergraduate degree. Her final stop was Fitchburg State University to get her Master's and CAGS degrees. Throughout her high school career, Ms. Martin participated in school clubs like the Prom Committee, SADD, and Pep Club. Her favorite memory during high school was taking the fan bus to the Worcester Centrum (now the DCU center) and cheering on the hockey team in the finals against Gardner. But also playing in the student vs faculty hockey games.
So, how did Ms. Martin begin teaching in the AWRSD district?
"I didn't even know Ashburnham or Westminster existed before I applied for this job. An ad in The Boston Globe caught my eye, I had an interview with the principal William Waight, and the rest was history," Ms. Martin stated.
Before Ms. Martin got the job in the AWRSD district, she had a job in Montana for the Missoula Family YMCA. She worked there for a year before moving back East. Her first job teaching was at Overlook where she worked as a 7th grade social studies teacher. Ms. Martin worked alongside Mrs. Crowley, but then moved to the high school after Mrs. Duncan was hired at the middle school. But was Ms. Martin's dream job always to be a high school history teacher? The answer is yes, and she loves it. Students are what make the job more enjoyable because there's always a new group of kids each semester and block.
With all of the events adding up to where Ms. Martin is now, did she ever expect that she would be in the position she is now?
"I did expect to be teaching, but I don't think I expected to be back in Massachusetts doing it, especially after having gone away to college and then moved away to Montana and Connecticut.  I'm happy things worked out the way they did though."
Some advice that she would give her past self is to "be kinder to yourself and stay open-minded to new experiences."
For all you car people, Ms. Martin drives a Toyota RAV 4 and for you music lovers, Ms. Martin mostly listens to pop, but has a soft spot for classical piano. Coming from an educational perspective, I am very lucky to have been in one of Ms. Martin's classes. Specifically, I enjoyed Ms. Martin's Women in World history class. Just the classroom atmosphere and the people who were in that class were just a wonderful experience. I'm saying that because I had Ms. Martin during A block where everyone was still asleep, but Ms. Martin kept me up and on my toes. If I could take that class again, I would.
Ms. Martin has taught every history class in this high school. Her three main classes are Women in World history, psychology, and US in the world: 20th century history. I highly recommend taking a class with Ms. Martin. She is an amazing teacher and person. If you don't want to take any classes, just stop by her room 413 and say hi. Ms. Martin usually says hi back with a smile on her face.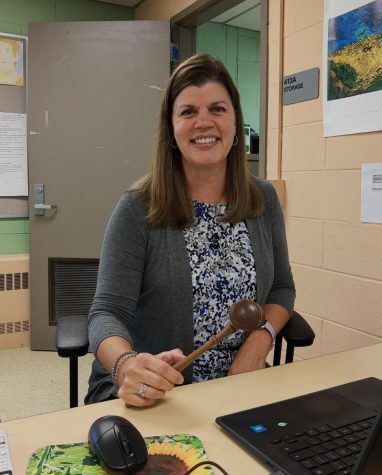 Leave a Comment