Girls' Cross Country crushed it at States!
Despite losing the legendary Fiona Picone to 2022 graduation, the Girls' Cross Country team is pushing on with improvement and success. The girls have been running hard, proving strong in their races and keeping a high spirit. In their six dual meets of the year, the team was able to win three of them. 
Wins came against North Middlesex, Marlborough, and Fitchburg. North Middlesex and Marlborough were both away meets. Losses came at home to Gardner and Nashoba, and away to Groton-Dunstable. Gardner has been fast in the past few years, with a strong top five that includes a team of sisters. Nashoba, a school notably bigger than Oakmont, has also been perceived as quite good in recent times. Groton-Dunstable also has a larger team than the Spartans. 
The top seven girls are usually McKinley Chabot, Katherine Horgan, Hannah Groncki, Cate Telicki, Maisie Rourke, Ava Bjorkman, and Isabel Wandless. Groncki and Telicki are seniors, while Chabot, Bjorkman, and Wandless are juniors. Horgan and Rourke are only freshmen, but they are already proving to be incredibly tough.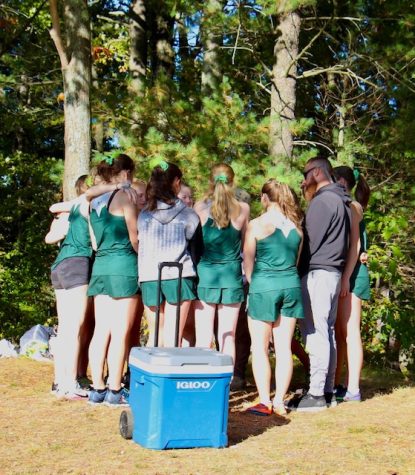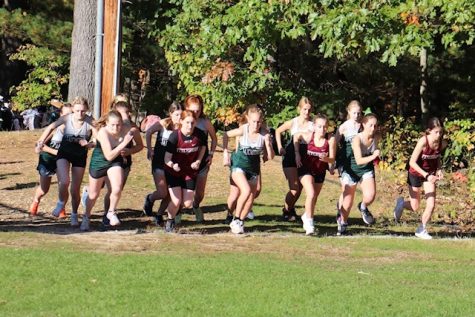 The meet against Fitchburg, held on October 11th at Oakmont, was the last home meet of the season, meaning senior night. The girls recognized Hannah Groncki, Ava Phillips, and Cate Telicki for all of their hard work over the years. Huge assets to the team, these ladies can always be found cheering everyone on and putting smiles on their teammates' faces! To make the day even better, the girls were able to beat Fitchburg 15-50 and secure the top five spots. Many girls were also able to run their personal bests on the home course.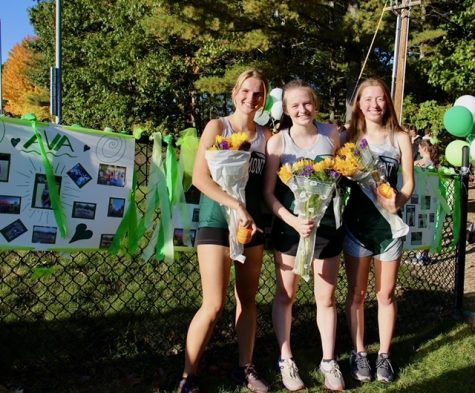 The Quabbin Invitational, held on Saturday, October 8th, was the first of the larger meets that the team planned to attend. Despite the dreaded steep hill that the girls had to run up, they fared well in the Varsity Race, which boosted the confidence of many. Chabot got 8th out of 51 runners, and Horgan secured 13th.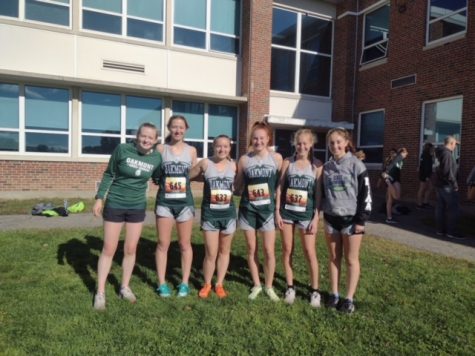 The next big meet was the Midland Wachusett League Championship, held at Pierce's Tree Farm in Lunenburg, MA. The girls were able to snag third place in Division B, with only Nashoba and Groton-Dunstable ahead. At the District E Central Mass Cross Country Championships at the Gardner Municipal Golf Course the next week, the girls placed seventh and ran extremely well. It was a good test for the next meet to come. 
With a week off of competition, the girls continued to practice hard and keep their spirit up. Soon enough, they headed back to Gardner for the muddy MIAA Division 3 Cross Country Tournament. This was the meet that would decide whether or not they continued on to states. The team was able to last year for the first time in history, and were hoping to make it a second. 
After patiently waiting, Coach Jepson came over with a straight face. Then he smiled and shouted, "YOU MADE IT!" There were 24 schools in the mix, and the girls had to come in the top seven. They were able to grab sixth and place ahead of Nipmuc, who had beaten them in the previous meet. 
Katherine Horgan had an incredible performance, finishing 20th out of 147 runners. Paige Humphrey was willing and able to step up and run for Wandless, who was out. Overall, the qualification couldn't have been possible without the hard work of every girl and the coaches, Tim Caouette and Ken Jepson! 
After the fabulous qualification, it was time for the team to put in their last great effort for the MIAA Division Cross Country State Championships at Willard Field in Devens. As the girls arrived one hour before their race, they observed the course and realized how fast it was going to be. There were three laps that had to be run, and there was only one hill, which was followed immediately by a downhill.
The start was cluttered and rough, with 183 girls all sprinting out at once. Luckily, Oakmont was able to get a good position on the field, which helped them at the beginning. The team is fortunate enough to have multiple groups of girls who are similar in pace, and they were able to use each other during the race.
Once again, Horgan had a spectacular performance and finished in 46th place, with a speedy 5k time of 21:31. Chabot was 15 seconds behind and finished in 56th place. It was the last meet for both Groncki and Telicki, but they ran great races as well. It was a truly special day, as not one girl had a bad race!
Overall, it was a truly special season for the girls. Not only were they able to make it to the state meet for a second year in a row, but they were also fortunate enough to have dedicated seniors, a talented group of freshmen come in, and another year of great coaching. They are looking forward to promising years to come!
Leave a Comment
About the Contributor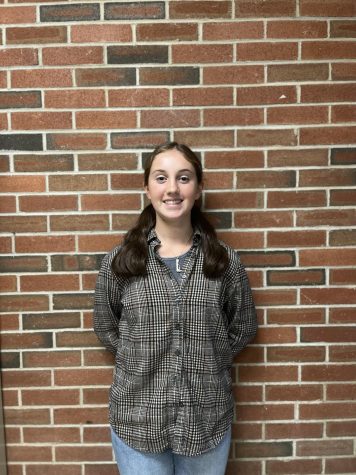 McKinley Chabot, Assistant Editor
McKinley Chabot is a member of the Class of 2024, and is serving as an editor for The Oakmonitor this year. Here at Oakmont, McKinley takes part in SADD,...