Interclass '22 –
Oakmont has a lot of traditions that students love to participate in. One of the most popular traditions among the student body is the Interclass Plays! Here is the lineup for this year's shows!
Seniors Class of 23 "The Pilates Kid" written and directed by Ciara Lordan
The senior's show, "The Pilates Kid" was a big hit with the audience. They decided to perform their rendition of the classic 80s movie "The Karate Kid" at the annual interclass plays festival this year with their show entitled "The Pilates Kid". "The Pilates Kid" follows Jason who recently moved from Canada to sunny Los Angeles California and, in an attempt to make some friends, was signed up by his mom for an 8-week summer pilates intensive despite his lack of interest in the activity. Despite his reluctance, Jason finds his home at pilates until he is distracted by Bethany, the girl of his dreams, who is a fan of skateboarding. As the story progresses, Jason finds it more and more difficult to stay loyal to his pilates friends while still maintaining his impressive new skateboarder persona ultimately giving him an ultimatum: pilates or skateboarding? 
Juniors Class of 24 "Scarduling Issues" written and directed by Westin Michaud
This show is set in a haunted house. There is a group of grown men investigators and then a group of vlogging teens. The owner of the mansion tries very hard to explain that the other group is the one causing strange things to happen, but they don't listen and believe it is a ghost all along. Once the groups leave, with no success at all, we finally are met with the ghost in which she gives a monologue and explains her life story. It closes out with the owner of the mansion and the ghost seemingly to be friends. 
Sophomores Class of 25 "Average Night in Alabama" written and directed by Kaden Aubin
Set in Alabama, there are some crazy things that happen while a group of people go to see Pitbull perform. Multiple murders happen after some new relationships and friendships blossom. One of these murders includes Pitbull and that causes chaos within the group. It ends with most people gone but Kendal survived as she was the killer all along. It closes out with a monologue where she states that she got the fame she wanted, just not in the way she expected. 
Freshman Class of 26  "Forever Today" written and directed by Viktor Stasiak
Like Groundhog Day, the play follows a character named Savannah who wakes up everyday and it is the same day as before. She meets characters along the way that she tries to explain her situation. Eventually she is able to get out of the cycle by the help of a new friend Sam and meets up with her other friends. 
Some of the students received individual awards for best performers in each show.
Freshman – Sam Kender
Sophomores – Persephone Panageotes
Juniors – Korynn Gagne
Seniors – Erin Boc
The overall best performer when to Senior Lydia Kreidler
This year the Best Show Award went to the senior class of 2023! Director Ciara Lordan had this to say about the performance "I think this year was our best year yet. Since so many of us have been working together since freshman year, the cast was all comfortable not only with each other but with the audience and the stage, often making comedic acting choices that were improvised but brought the show to another level. I am very proud of all of the work that everyone has put in this year and years past and I am happy to leave our last interclass show on a good note with another win!" 
Congrats to all of the amazing performers for putting on a great show this year!
Leave a Comment
About the Writer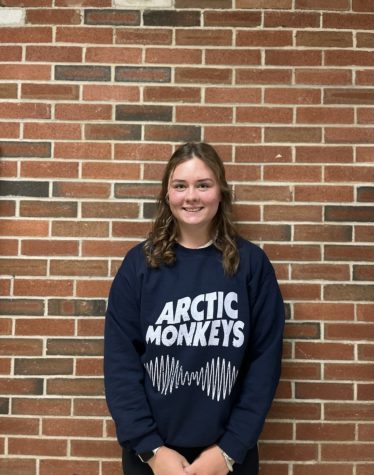 Nola Patty, Photographer/Sports Editor
Nola Patty is a part of the Class of 2024 at Oakmont Regional High School. This is her second year being a part of The Oakmonitor. Nola is a member of...