Blundstone Boots: A One-Year Review
About one year ago, in an attempt to add sustainability and durability to my shoe collection, I got my first pair of Blundstone boots, the #587 chelsea. Advertised as both a comfortable and long-lasting footwear option, Blundstones (or "blunnies", for short) seemed the perfect choice for someone interested in owning a reliable and sustainable pair of shoes. At a steep price of $200, Blundstones carry a hefty price tag, though; after one year, how have they held up?
Comfort: 9/10
In terms of comfort, my Blundstone boots have certainly lived up to their reputation. After wearing my boots almost daily to work and school for the past year, I can safely say Blundstones are one of the more comfortable pairs of shoes I've owned. The boots' cushioned midsole and steel shank make for a boot that is both supportive and stable, and their light weight makes them easy to walk in. In addition, the leather uppers, though initially stiff, become more comfortable as they break in, providing for a personalized fit. Having worn the boots while working retail, Blundstones provided a comfortable base for hours standing and walking. My one comfort complaint is with the Blundstone's lack of breathability; the boots can become sweaty and develop a smell when worn in warmer weather, something that makes them less than ideal for summer months. The #550 models also include extra foam insoles that can be used to give the boots a snugger fit.
Durability: 8/10
Overall, I've had very few complaints with the durability of my blundstones. The TPU outsoles have stayed in good shape after a year of wear and their treads have remained effective, helping protect against slippage during winter weather. The "rustic black" leather has also endured well through a year's wear, and has kept my feet dry in most conditions. Blundstone also sells renovating cream for their boots that I recently tested, which worked well to restore their original look. My main complaint with Blundstones is their limited repairability; the boots lack a goodyear-welted sole, which would make any potential resoling difficult. The original soles have held up well so far, though, and I think they should last years before they break down. Some have also complained about a drop in the quality of Blundstones since their outsourcing from Tasmania to Asia, though I haven't had any issues with the quality of my own pair.
Value: 7/10
At prices rarely under $200, Blundstones are certainly not an easy investment. Considering the longevity of the boots when properly cared for, though, I'd say Blundstones are priced fairly. My Blundstones have held up better over the long-term than any pair of sneakers I've owned, and are definitely of the quality that you pay for. I've certainly got plenty of use out of my boots, and I think they should last years to come. I think Blundstones would be a much better value if they were priced around the $150 mark, but their current price isn't unfair. 
Overall: 8/10
As a comfortable and durable boot that can be worn nearly year-round, Blundstones are a good option for a shoe-collection addition. They're certainly a little pricey, but provide a versatile and long-lasting footwear option. I tried on my pair of boots in-person at Evans on the Common in Townsend, something I'd definitely recommend because of the importance of a proper fit in a chelsea-style boot. Blundstone also sells the 550-style boots on their website for between $220-$230. The boots come in other colors including "rustic brown", as well as in smooth leather uppers. In terms of sizing, Blundstones come in AU/UK sizing, which is slightly different from American sizing. Half sizes increase with the width, not length, of the boots; I got an Australian size 9.5 boot because of my wider feet.
Leave a Comment
About the Contributor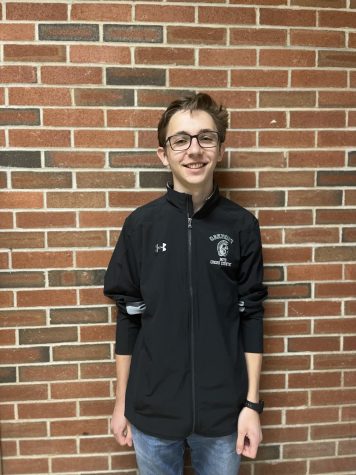 Henry Telicki, Reporter
Henry Telicki is part of the Class of 2023 at Oakmont. This is his third year writing for The Oakmonitor. Henry is a member of the cross-country team at...