Oakmont Athletics: The Secret Behind the Success
Sports are a large part of many high schoolers' lives. Whether it's playing on a team, or coming out to support one, sports find a way to impact countless students. At Oakmont Regional High School, however, sports are more than just a game; they're a way of life. 
Oakmont has never lacked passion and talent on their sports teams. Historically, competitions have always gone great for the Spartans, and over the years, a number of high-stakes trophies have been won by numerous teams. 
The 1973 Football Team, which was recently inducted into the Athletic Hall of Fame, made history and became the Wachusett League Champion, as well as the Central-West Division III Playoff Bowl Champion. The 1977 Football Team had an undefeated season and became the Super Bowl Champion. The 1982, 1983, and 1984 Boys' Spring Track Teams had a collective record of 45-0, and were Wachusett League Champions, District III Class Champions, and District III All Class Champions. The 1989 Softball Team was the first State Champion Team with a record of 21-1, and the 2009-10 Boys' Hockey Team was the Division 3A State Champion.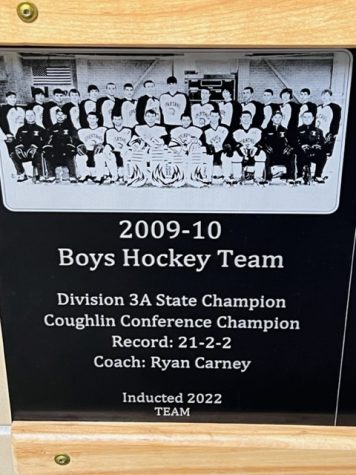 Those wins barely scratch the surface, however. This year, in fall sports alone, the Varsity Boys' Soccer Team went undefeated in the regular season and became the CMADA Class B Champions, after beating Blackstone Valley Tech 6 to 5 in a nail-biter. The Varsity Field Hockey Team also achieved this honor and made it to the second round of the state tournament. With only a few seconds left on the clock, the Oakmont Football Team was able to find a way to beat rival Lunenburg, with quarterback Sam Curtis throwing a game-winning 40-yard touchdown pass to Isaiah Smith. The Oakmont Cheer Team, which started in the mid-1960s, came back this year after a brief hiatus and is performing better than ever. 
With all of the crowns, it's hard not to question the secret behind the achievements. What makes Oakmont athletics tick? Why is this program so special? What makes the students stand out from others in the area?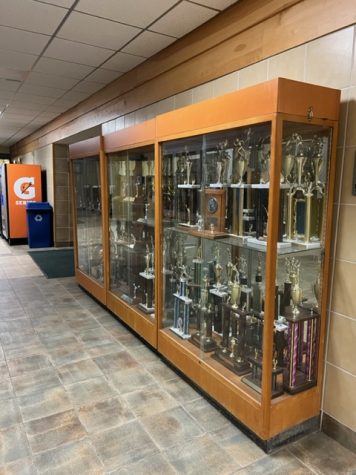 Eric Dawley, the athletic director and a graduate of Oakmont, says that additions of certain amenities and the quality of the ones that are here help a lot. Notably, the turf being added in 2007 allowed for a better spot to play football and the marching band to practice. The school is lucky to have lots of forest around it, and its cross-country course is easily the most wooded one around. Often called the hardest course in Central Massachusetts, it definitely gives runners an edge. The track is situated in a spacious, quiet area away from the school, and was just redone in the past couple of years. Oakmont also has two gyms that are bright and spacious. 
Ed Fitzgerald, the assistant athletic director, has been working at Oakmont for close to four decades and has coached boys' and girls' indoor and outdoor track, as well as assisted the field hockey team. He was inducted into the Athletic Hall of Fame this year. Fitzgerald agreed that the school has been lucky enough to have gracious funding over the years. "I think that every team we put out has the necessities; maybe a few extras depending on who you are. Obviously, money's not the ultimate driving force of athletics here; I don't believe it ever has been, but I do think financially, for the most part, our athletes have been supported."
Fitzgerald said that strong funding could not have been possible without persuasion. Laughing, he said that David LaRoche, who was a previous athletic director from 1980 to 1984 and again from 2005 to 2009, was very good at raising money. "David had a way of convincing you; he'd come up to you and shake your hand and say 'Oh, by the way I need 100 bucks so we can get lights.'"
The success of other aspects of the school has also contributed. Both Dawley and Fitzgerald said that Oakmont's students and coaches prioritize academics as well as athletics, and the discipline taught during the school day carries into what is taught on teams. 
"I think Oakmont, as a whole, offers so much,"  Dawley said. "In the present day, there's an appeal to come here. We have an unbelievable music program, a super art program, and a number of different co-curriculars. I think that attracts, not only students who live in the community, but also in the age of school choice, students from other communities want to come here." 
Though these factors definitely helped, after asking around, one answer seems to reign supreme about the true secret: it's the people. Oakmont has students who are willing to push themselves, coaches who give their all, and extremely supportive fans. 
Dawley says that Oakmont's sports teams were built on a foundation of extraordinary, successful individuals. "I do think there's a significant history here at the school, from really the time that the school opened. You can go back to the early 1960s, when Arthur Hurd was the athletic director and the Head Football Coach. And then you had people here like Dennis Driscoll, Donna Kiuru, Bob Weeks, the list goes on."
Hurd was the first Athletic Director at Oakmont, serving the school from 1960 to 1976. He was the first football and baseball coach at the school, and was a State Football Coaches Hall of Fame Inductee. Now, he has the turf named after him as the Arthur I. Hurd Memorial Field. Driscoll was a teacher and coach at Oakmont for 33 years, and is the person who the baseball field is named after.
Kiuru was named Best Female Athlete in 1961, and came back to the school and coached field hockey, basketball, and softball. Weeks, who graduated Oakmont in 1965, coached outdoor track from 1969 to 1985 and indoor track from 1971 to 1985. He was also a State Track Coaches Hall of Fame Inductee. 
David LaRoche brought equality to the school, and made sure that not only boys, but girls were successful as well. Fitzgerald explained how, at different times, the school had been approached to start soccer and lacrosse teams, but for boys specifically. LaRoche, however, would not form a boys' team without a girls' one as well. So, soccer and lacrosse teams were formed for both genders. 
Players of all abilities are able to flourish at Oakmont as well. The school has a Unified Basketball Team and a Unified Track Team, which focuses on giving students with various disabilities the opportunities they deserve. Charles Pappas is the Unified Basketball Coach at the school. He touched on what this job means to him; "Being the Unified Basketball Coach is one of the most fulfilling positions I have ever had.  Using basketball as an outlet to work with students from different backgrounds is both fun and exciting.  The sense of accomplishment and joy is magnified by the athletes and partners as students that may not normally play sports are able to come together and enjoy a game with athletes and partners from other communities."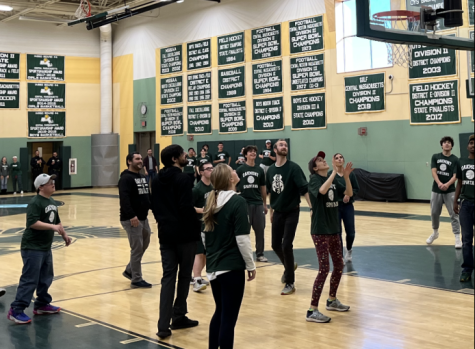 Pappas is also a recent graduate of Oakmont and was an athlete for the school. He and his friends were able to start SpartanCenter, a very popular club centered around sports, back in 2017. When asked why he believes sports at Oakmont flourish, he included this information: "As a former Oakmont student-athlete and current Oakmont coach, I can speak from both sides in saying how supporters affect athletes during a competition.  With SpartanCenter at the forefront of Oakmont athletic support, the atmosphere in which supporters bring to Oakmont home competitions as well as away is vital in the athletic success our teams have seen most recently."
Leanne Roy, the renowned varsity field hockey coach, mentor, and a fitness teacher at Oakmont, also gives immense credit to the people of the school, both past and present. "I believe that Oakmont sports are so special because of our rich tradition to be competitive.  For a small community, we are able to compete at the highest levels in all sports. How are we able to stay competitive? The one constant remains, the quality of humans that we have walk the halls of Oakmont.  Whether it be Eric Dawley or Tim Caouette, you can see the quality human I am referring to."
Credit has to go out to the student-athletes as well. Fitzgerald touched on the fact that some schools are notorious for being unfriendly, leading teams to dread visiting them. Oakmont, however, does not share this reputation. Athletes try to be their best and welcome any team who comes by. At away games, they keep up this attitude. 
Citing the example of the football team's game against and at Stoneham, Fitzgerald said how proud he was that everyone politely shook hands at the end. Despite the Spartans' 50-23 loss, they recognized that they had been beaten by the better opponent, whom he called a "mini college team." Instead of being angry, they used the defeat to better themselves. 
Lincoln Stiles Jr, a history teacher and the veteran Oakmont Varsity Boys' Soccer Coach, shared this feeling as well. "First and foremost our student-athletes play an important role because of their hard work and willingness to compete at a high level, and they enjoy the competition. They emulate a certain set of ideals that their coaches and teammates expect throughout their season." 
Fitzgerald continuously praised Dawley for his hard work and dedication. He explained how Dawley, who won the Central Mass Athletic Director's Award a few years ago, puts everything he has into the success of Oakmont. "As much as I treated him like a rented mule when he was a student-athlete here, he has done a lot. I don't know of an Athletic Director who has done more for this place or cares more about our student-athletes than he does. He gets to know as many kids as he can, and obviously, he's friendly with the coaches that he hires. He's gotten himself on some MIAA Committees so that he's involved. And I think [his work] is not always seen. There was this great quote from LaRoche; 'Nobody knows what you're doing until it doesn't get done.' Eric is like that. He's been, I think, instrumental in our success."
The people in Ashburnham and Westminster are also deeply connected. Many families have been here for years, and pass on the community's traditions to each generation. Oakmont's sports teams are full of tradition; coaches learned them when they played here themselves, and their coaches learned when they played here. The kids here grow up playing and learning together, which leads to a strong bond that shines through on the teams.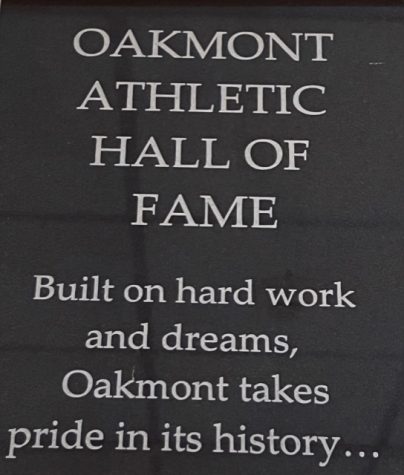 This can absolutely be seen around the school. Countless students that walk the halls of Oakmont have had a parent or relative do the same. Some even get to hear the stories from "back in the day" about playing a sport for Oakmont. Katherine Horgan, a top cross country runner and only a freshman, is following in the footsteps of her uncle, Kevin Horgan, who also went to Oakmont and was the State Mile Champion in 1995. Gabby Romano is a junior and the goalie for the varsity girls' soccer team. She also plays on the girls' lacrosse team. Her dad, aunt, and uncle all went to Oakmont, and her dad played tennis and hockey. He now coaches lacrosse and is a math teacher at the middle school.  
Daniel Dufour, the dedicated indoor track coach and a science teacher at Oakmont, also believes in this connection. "What makes Oakmont sports great is Oakmont itself… It's history. Oakmont is more of a family than most schools. Our community is tight-knit. Our parents went here. Many of our teachers and coaches went here". 
Stiles gave examples of some of the current coaches who were student-athletes at Oakmont, including himself. Tim Caouette, who now coaches Cross Country and Baseball, played both of those sports during his time at Oakmont. Roy played field hockey during her time at Oakmont, and Dufour too was a student-athlete here. Other graduates include Coach Alves (JV Girls' Soccer), Coach Billings (JV Football), Coach Descarreaux (Golf), Coach Jepson (Cross Country), and Coach Jones (JV Boys' Soccer), Coach Pappas (Unified Basketball), and Coach Testa (Boys' Ice Hockey).  
Caouette also spoke about this. "Our athletes know they are part of something larger than themselves and compete with that connection to athletes past, present, and future.  We have the unique environment where many of our current athletes' parents or grandparents competed for our athletic teams, much more so than other high schools or communities."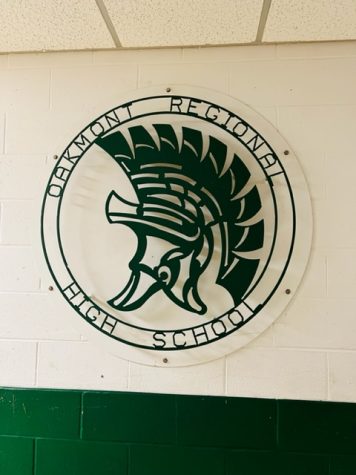 Overall, every part of the success of Oakmont's sports circles back to the people. The people push for new and great amenities. The people fund and ask for funding. The people put everything they have into all that they do, and show up ready to play. 
Team members function as if they are one, and treat their opponents with respect. If someone's down, they'll help them up. If someone impresses, they'll scream and cheer and congratulate them. The foundation is strong, and always will be. In the wise words of Coach Caouette, "Oakmont athletics really are a family. We all support each other and bleed green together." 
View Comments (1)
About the Contributor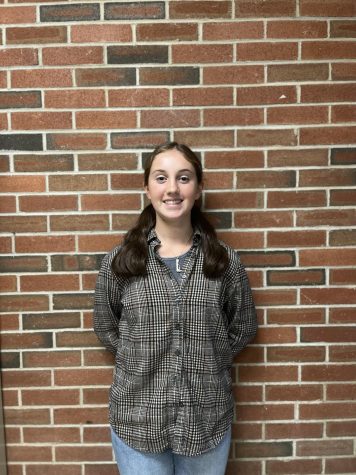 McKinley Chabot, Assistant Editor
McKinley Chabot is a member of the Class of 2024, and is serving as an editor for The Oakmonitor this year. Here at Oakmont, McKinley takes part in SADD,...