Confirmed: SCHOOL DURING APRIL BREAK (except seniors)
By Mikaela Groncki and Reagan Bouchard
***UPDATED NEWS Noon, Friday, March 24:
The school's committee meeting made a final decision. There was an email sent out to teachers informing them on the outcome.
To extend our summer, school will be occurring during April break. It will replace the last 4 days of school. There will be no school on Monday, April 17 (Presidents Day); however, Tuesday through Thursday will be full days of school, and a half day on Friday. 
The surveys that were sent out to faculty, staff, students, and parents resulted in nearly ⅔ of people preferring the schedule change for school on April break. The remaining ⅓ of people are concerned about their vacation plans. Students and families who indicate that they did have plans beforehand will be given excused absences and won't have to make up any work.
Also, teachers have been asked that they use these extra days on break to not extend their current lessons or any other relevant activities and not teach new material. The lessons on the four days we are in school should not be vital lessons due to the many families who have long-planned vacations.
The new make-up days held in the April Break will NOT be school days for the senior class. Because their graduation date can not change they won't have to make up for the snow days missed. Without the 12th graders, there will be more flexibility for staffing. This will allow more shared personnel and district subs to support our other schools. 
We are currently getting out of school on Friday, June 23! More Summer for us!!! 
***************************************************************************************************************
Previously posted story below – March 22nd
With so many snow days, the end of school keeps being pushed back. The first day of summer break is now on the verge of July.
Thursday night's school committee meeting should shed some light – not snow – on the subject.  
With limited options, it is unlikely that the school district will change the school calendar to lengthen summer break. The alternatives being questioned are getting rid of April break, having remote days, school on weekends, extending school days, or getting a pardon. Doing any of these would cause problems with premade plans such as vacations or work.                                                                                                                                               
If there does happen to be school on April break, school would be on Tuesday, Wednesday, Thursday, and a half day on Friday. There will be no school Monday due to the holiday. The students who are participating in the school's Puerto Rico trip during break would be given excused absences. This is because the trip is set in stone. 
The option for remote learning has not been approved by the commissioner of education yet this year. This means remote days are not counted as a day of school and are not seen as a fair learning opportunity. The commissioner of education is the only person who has the authority to approve these options.
All superintendents may request a pardon for days of missed school under certain circumstances, but these are rarely approved. It is usually difficult to get a pardon because of the 180-day school law. Student Cali Laliberte says that instead of a required 180 days of school, they should just set a date for the end of school and not change it. She thinks it is not the students' fault if school is canceled, and they should not have to make up all the days that are missed.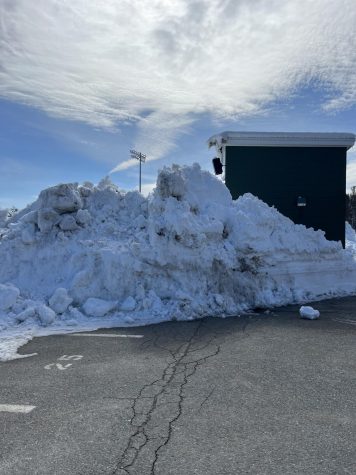 As for having school on the weekends, this would be a major change and would need a lot of support. Student Hannah Groncki says, "That is a societal thing that people get the weekend off." Many students might have work or plans on the weekend because people have always had it off. 
To make any of these options come true, there would need to be a formal vote of the school board and public surveys for more opinions. The Superintendent, Dr. Todd Stewart, would need to make a presentation to the board and gain enough votes. They would also need to check with the staff to make sure they are available to work.
Dr. Stewart says that at this time there is not much they can do to switch the date for the last day of school. This is due to the fact that the school calendar is set at the start of the year and would be very difficult to change. 
The school calendar does not plan for unpredictable weather, like the multiple snow days we've had.
Mr. Dufour, a meteorologist, explains the drastic number of snow days our towns have encountered this year with some inside info from the Channel 5 Meteorology Crew. He says that because of our very high elevation of 1100 feet combined with the distance from the ocean, it creates the perfect temperature for snowfall.
Also, the Monadnock and Watatic mountains and hills, and the valleys in between create a wind tunnel. The wind tunnel pushes the northeast wind of the Atlantic to our elevation.
Another factor in the storms we have been experiencing is global warming. The weather is changing rapidly. It's affecting more than just the planet; it's also getting in the way of our schooling. "Mother nature hates us," says Dufour. We need a fix, and soon.
It's crazy that just because of where we live, our summer is the shortest it's ever been.
Leave a Comment