AWRSD Hosts Unique Community Voices Panel Discussion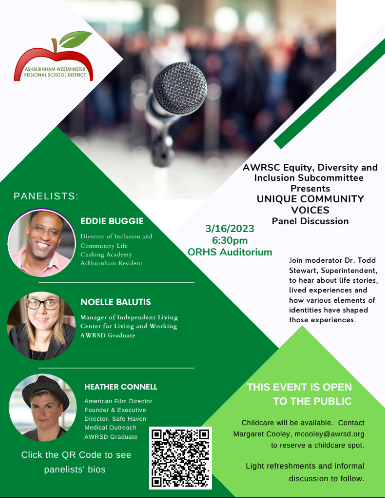 On Thursday, March 16th The Equity, Diversity, and Inclusion Subcommittee hosted a presentation of a Unique Community Voices Panel Discussion where people from very different backgrounds came and talk about their experiences and hardships. It was an event where people could come from the community to hear and share stories that would not only inform the younger generation but also teach older generations how to help kids appreciate diversity and strive for equity. 
 I interviewed AWRSD Superintendent Dr. Todd Stewart and he had a very interesting viewpoint from the presentation. He enjoyed how the volunteers were able to come out and share their experiences. He believes that it was influential and taught him how to help to be a better teacher and role model for AWRSD students.
There were three speakers in the presentation: Eddie Buggie, The Director of Inclusion and Community Life at  Cushing Academy.  Noelle Balutis, manager of the Independent Living Center for Living and Working. She was an AWRSD graduate. Also, Heather Connel;l an American film director founder, and executive director, Safe Haven Medical Outreach. Who was also an AWRSD graduate. 
They all were informative speakers all having their own stories giving people a new perspective on many problems we face in the world today. The presentation didn't only teach teachers but adults as well. It brought to light how kids might be feeling or the troubles they faced and how to help them, and how to be a role model. It showed how to be a better more inclusive community that appreciates diversity and strives for equity.
.
Leave a Comment
About the Contributor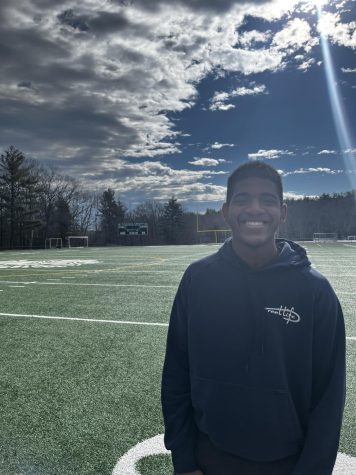 Brian Sandjong, Reporter
Brian Sandjong is a part of class 2026 at Oakmont Regional High School. This is his first year serving for The Oakmonitor. Not only is he with The Oakmonitor...