First and Second Day Festivities
As Oakmont enters a new school year with full time in person learning, all the usual events and schedules return.
Students entered the doors of Oakmont last Tuesday ready to embark on the new school year. After what seemed like a short summer of relaxing, all 719 students roamed the hallways to homeroom and began their first (senior's last first) day of school. 
Senior Allison Sowerbutts expressed how she felt after the first day, stating, "The first day of school was comfortable. Oakmont is doing a great job of easing us back into the swing of things. My last first day of high school was bittersweet, but I am looking forward to this year and all that it was to offer for the Class of 2022."
By the second day of school, some students' nerves were calmed and teachers were beginning to learn everyone's names. Now that Oakmont has entered a normal school year, the typical activity-filled second day schedule has returned. Students rotated through four informational blocks before returning to regular scheduled classes. 
Following the senior's schedule, the first event of the day was the class meeting. Each class met with their advisors and guidance counselors to go over this year's agenda. For freshmen, this meant discussing the various clubs Oakmont has to offer and how to join them, meanwhile juniors discussed plans for college and how to request permission for college visits. 
Up next were school pictures. As everyone put on their best outfits and practiced their cheesy smiles, some of the seniors were getting ready for their swim lessons. Typically, seniors attempt to do a "silly" picture in celebration of their last year at Oakmont. Some members of the class of 2022 decided that swim caps would be the perfect accessory for their picture. 
Senior, Izak Hannula spoke on the situation, "It was a very fun movement, we really enjoyed ourselves. There's definitely more to come from the Class of 2022". Hayden Chatigny, who's also a senior here at Oakmont, said, "As a friend group, we wanted to do something out of the ordinary and bring a smile to people's faces. It boosted Oakmont's school spirit and got a laugh out of the teachers". What a fun way to kick off the school year!
Students also stopped by the library after their pictures to pick up a chromebook. Thank you to the Tech Department for organizing and handing them out; the laptops have most certainly become a necessity here at Oakmont!
Seniors made their way to the big gym after photos for ALICE training. Thank you to the Ashburnham and Westrminster police departments for putting together a great presentation on school safety. Students were refreshed on topics such as how to assess a school safety situation by using the acronym ALICE: Alert, Lockdown, Inform, Counter, Evacuate. 
The last scheduled event for the day was the activity put on by Student Council for grades 9-11. This was meant for students to sit back and relax amidst a somewhat hectic schedule. To see where ORHS's competitive spirit was, StuCo put on a few Kahoots for each class to try. The themes included "Would You Rather, Halloween Edition? ", "Whos' that Celebrity?" and "Riddles". 
The council's advisor, Mr. Dufour, commented on how the Kahoots session  went: "Every year, the administration asks Student Council to fill the fourth slot of the 2nd day block schedule with something of our choice. In years past we have done a community service activity, but this year we thought we should let the students relax and have some good old fun. It's awesome to do a spirit activity to allow each class to bond and to help students feel at home instead of making them more stressed. It went really well, I was so happy to see students back in their natural element at Oakmont". It was great to see everyone battle it out online, and prove how strong their trivia skills really were!
The seniors were supposed to have their annual class photo on the turf, but due to the rain it was postponed. As usual, the theme will be green and white!
The Spartans are feeling jazzed and ready for what this year has to throw at them. Oakmont's first couple days of school surely set the tone for what will be a fantastic school year.
Leave a Comment
About the Contributor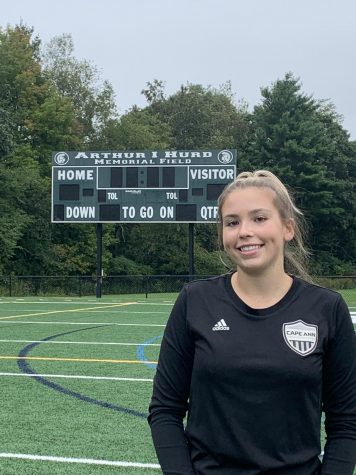 Allyson Foley, Publication/Layout Editor
Allyson Foley is a senior here at Oakmont and is acting as a leader for the Oakmonitor, as she is doing an independent study with advisor Mr. Nevard. Allyson...