Spartans attend MIAA Summit at Gillette: Chabot wins essay contest
A group of Oakmont student-athletes attended the MIAA Sportsmanship Summit at Gillette Stadium on November 10th. While there, they were given the opportunity to listen to motivational speakers, participate in impactful workshops, and meet several other Massachusetts student-athletes. Athletic Director Eric Dawley secured 11 spots: Coach Leanne Roy, and nine student-athlete attendees including, McKinley Chabot, Jake Harrington, Chelsea Amoah, Meghan Heffernan, Tyler Nally, Annika Sallila, Jake O'Day, Evan Young, and Ava Cote. 
Dawley, the organizer of the Oakmont attendees, was impressed. "The MIAA Sportsmanship Summit was outstanding as always. Dynamic speakers and interesting topics filled the schedule.  However, it is always a great opportunity for our students to meet new people, expand their own network and interact with student-athletes just like themselves, from across the Commonwealth."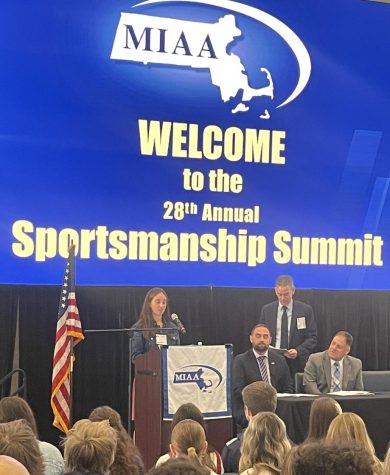 When the selected students and staff arrived at Gillette Stadium they were given breakfast. Before the awards began, the president of the MIAA shared a few words about how fortunate everyone was to be there, and then the sportsmanship awards began. District sportsmanship awards and a few creative pieces were recognized for honorable mention. Next, Oakmont student, McKinley Chabot shared her first-place award-winning sportsmanship essay. 
"The summit was an absolutely incredible experience. It was empowering to stand in front of so many courageous, inspiring people who love sports as much as myself. On the ride there, I thought I was going to be nervous talking in front of so many people, but once I got up on stage, it was easy. Everyone seemed really engaged and excited, which gave me the confidence I needed!" Chabot explained.
She did a fantastic job speaking in front of hundreds of people. Her speech was extremely impactful and left the whole crowd in awe. When McKinley finished her speech, the entire conference center happily cheered for her. 
After the awards, the attendees were split up into randomized groups. All of the groups were sent to different parts of the conference center. In these different spots, they received powerful advice about the future and information on how to navigate it. 
Sophomore basketball and baseball student-athlete Jack O'Day shared, "The main thing I took away from this experience is the importance of sportsmanship and the importance of being kind and caring for everyone."  
Attendees witnessed an extremely impactful lecture from a former NBA player, Omari Pearson. His wise words were very encouraging, they helped many realize the importance of working hard to do great things in the future. Omari's main point in his workshop was that nothing is going to come easy, and some of the things that students do now will help them in the future. He used his own experiences to give a great example of how things can become great if you work hard. He used his experience with basketball as an example of this type of hard work. He explained how he never would've played if the people in his life didn't push him to do so.
He ended up playing Division I basketball and being drafted into the NBA. This proves that surrounding yourself with people that care for you and people who want the best for you, can make a huge difference. Additionally, it emphasizes to never be afraid of using connections, and never be embarrassed. During this workshop, the groups were also given the opportunity to fill out our dream colleges and learn a few things about them. This really got minds thinking about the future and encouraged them to really work hard and seek out what they wanted to do. 
The second lecture was from a speaker from Northeastern University. He spoke mainly about the awareness of explicit biases in sports, and things we can do to stop it. The attendees talked about different ways people often stereotype, and make up things just because of the way they look, the sports they play, the color of their skin, etc. They also talked about different ways to handle situations like this and how to stop implicit bias, by trying to get to know people before making a decision, and making up your mind if you "like them or not". During this workshop, many Oakmont students explained how fortunate they felt to already be educated and aware of the implicit bias issue. 
Sophomore football and lacrosse player Tyler Nally shared, "I was absolutely blessed to be accepted to go to the MIAA Sportsmanship Summit. After the presentation from all the speakers, I had one takeaway the key to being a good athlete, leader, and a possible selective for colleges is to have good sportsmanship. treat all other players with respect including refs and coaches, make sure to be there for teammates and always be the person your peers look up to."  
Even though the Oakmont attendees felt very educated on the subject already, they learned even more during this workshop. The speaker from Northeastern was able to get the crowd in on all of the questions which made the discussion much more entertaining. 
After lunch, high school representatives were able to visit the Gillette Stadium Field and take any pictures they wanted. Overall, the day was wholehearted and filled with motivation.  The speeches left many attendees thinking about their perspectives on sportsmanship, the future, and the impactful pieces that can come out of being a wonderful athletic player.
McKinley Chabot Awarded 1st Place and Presents MIAA Sportsmanship Essay at Gillette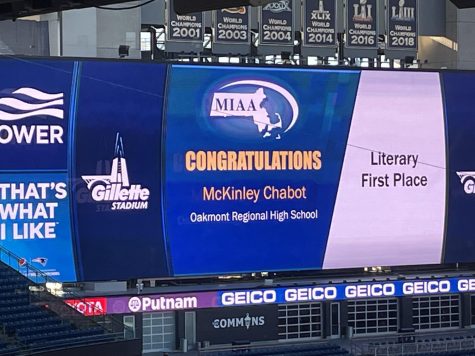 This year ORHS was extremely fortunate to have an Oakmont student receive first place in the annual state-wide MIAA Sportsmanship Writing Contest. Our very own McKinley Chabot was given the opportunity to present her writing piece at the Sportsmanship Summit. She was introduced by the head of the MIAA, and stood tall and confident at the podium. Chabot explained, "On the ride there, I thought I was going to be nervous talking in front of so many people, but once I got up on stage, it was easy. Everyone seemed really engaged and excited, which gave me the confidence I needed!"   
As McKinley spoke, she thoroughly explained what a truly courageous leader is. Her words were strong and motivating. Additionally, she was able to explain in miraculous detail how to be successful. Being an avid runner McKinley was able to use her own personal experiences to give the audience a clear explanation.
Chabot herself tells us, "Crafting my essay about courageous leaders and how they demonstrate sportsmanship could not have been possible without me being on a team, and experiencing the power of a leader's influence firsthand. I've been lucky enough to run cross country and track with extremely supportive people who want nothing but for you to be your best. They are the reason my essay was a success!" 
As a strong athlete, McKinkey is able to have strong connections with her coaches. These coaches give her encouragement and help her reach her goals. Coach Caouette shared, "When runners finish a grueling race, each athlete has a post-run routine.  Some sit down, some zone out, some get sick. McKinley is almost always one of the top finishers in every race she runs for us.  Because of her effort and finish times, she has more time than most to recover.  Once she has recovered, she is relentless in her cheering for not only her teammates but also for her former opponents in recognizing the efforts of all.  Her "race" isn't finished until the last runner has crossed the line on that day, regardless of the colors they are wearing.  She is a true leader and prime example of leadership, sportsmanship, and all that it means to be a Spartan."
Eric Dawley, Oakmont's loyal and respected athletic director, agreed "We couldn't have been more impressed with McKinley at the MIAA Sportsmanship Summit. Her essay was on point and her poise and delivery were exceptional.  We are extremely proud of McKinley and are grateful to have her represent our school in such a significantly positive way."
Chabot was not only able to use her athletic experiences in her writing, she also was able to use her wonderful skills as a writer that she has crafted here at Oakmont. We were able to get a few words from her journalism teacher and The  Oakmonitor advisor, "I am so proud and happy for McKinley. As she writes about in her essay, courageous leaders exemplify kindness, inspiration, encouragement, inclusion, and even the acceptance of defeat.  Apart from being a focused athlete and determined student, I have the fortunate role of being able to appreciate McKinley's writing as a featured journalist for The Oakmonitor.  Her balance of open-mindedness and critical thinking is only enhanced by her determined efficiency and productivity with her artfully written words. Her words speak, and those words are one of key reasons why The Oakmonitor is so respected."        
With such a well-known athletic tradition and an involved athletic staff, Oakmont is annually a key attendee at The Summit, yet somehow this year seemed a bit more Spartan special. Chabot summed it up well. "I am extremely grateful to all of those who have encouraged me in my writing over the years. I never thought I would be presented a plaque at Gillette Stadium and have my name on the scoreboard, but due to the encouragement of my teachers and parents, it happened. I hope to continue writing and exploring my passion for sports!"  
Leave a Comment
About the Contributor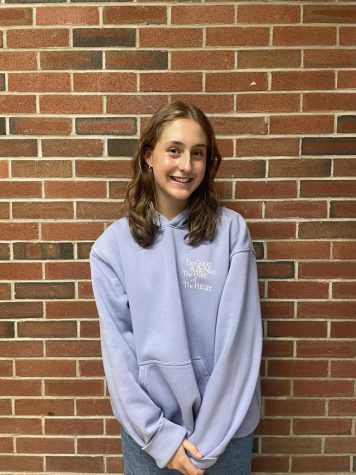 Ava Cote, Reporter
Ava Cote is part of The Oakmonitor staff in the class of 2024, at Oakmont Regional High School. She was a part of the creative writing class, and she is...